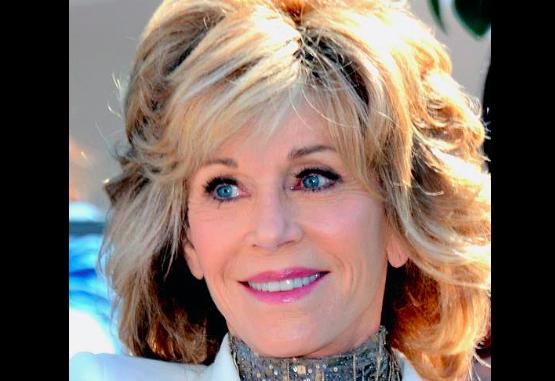 Los Angeles: Jane Fonda has joined with Black Lives Mater in a campaign to stop the construction of two new jails and to give subpoena powers over the Los Angeles County Sheriff's Department to civilians committees – which would be dominated by those of her political ideology. The campaign was launched by Patrisse Cullors, a police and prison abolitionist who also is a co-founder of Black Lives Matter. Fonda says that black males, who account for 6% of the population, commit 52% of the
homicides
and murders in the US because of white supremacy. She says that "poor and working class Whites must be made to believe that they have privileges and advantages not afforded [to] Blacks."
Academy Award-winning actress Jane Fonda, also known for her decades of political activism, has teamed with a co-founder of Black Lives Matter to promote a proposed ballot measure that would fundamentally transform the largest sheriff's department in the world.
Fonda, 80, spent part of her Memorial Day weekend canvassing for the Reform L.A. Jails and Community Reinvestment Initiative. The campaign aims to stop the construction of two new correctional facilities and give a civilian oversight panel subpoena powers over the Los Angeles County Sheriff's Department (LASD). In addition to operating the nation's largest jail system, the agency also provides policing services to 42 contract cities.
Organizers have less than two weeks to gather the required 150,000 signatures needed for the initiative to qualify for the countywide ballot in November. On Friday, Fonda invited campaign staffers onto the set of her Netflix series "Grace and Frankie," where she encouraged the cast and crew members to register to vote and support the cause.
"I've been working on a measure to reform L.A. jails, and we are collecting signatures outside on a table," Fonda announced from Stage 21 of the Paramount Studios. "We need 80,000 signatures by June 11."
The campaign was launched by Patrisse Cullors, a police and prison abolitionist who is also a co-founder of Black Lives Matter. She has admittedly spent several years organizing marginalized community members to "dismantle" law enforcement agencies, often focusing on LASD. Local media initially labeled the proposed referendum the "Black Lives Matter Ballot Measure," but neither Cullors nor her allies have embraced that characterization.
Earlier this month, Cullors and Fonda shared a stage at the United State of Women (USOW) summit in Los Angeles. The duo explained to approximately 6,000 feminists in attendance that the criminal justice system is, foundationally, a racist institution.
As ABC News reported:
The memorable moments continued at the summit when actress Jane Fonda and Patrisse Cullors, co-founder of the "Black Lives Matter" movement, took the stage at the USOW together to speak about mass criminalization. Fonda started her speech off by saying, "When Trump was elected and the toxic bedrock of white supremacy in this country was exposed, I realized something … the lens through which I have been looking at race is too shallow — so I'm studying."
She went on to say that "it takes more than empathy. It takes intention, to even begin to comprehend what people of color, no matter their class, face every day."
Cullors followed Fonda's speech by praising her and telling the auditorium "every white woman in the audience, please take heed."
They both spoke about disproportionally high incarceration rates in African American communities and racism in America and advocated ending the war on drugs and the construction of new prisons.
Fonda attributed her self-professed lack of depth on racial issues to her skin color.
Since that summit, Fonda has hosted a campaign fundraiser at her home, publicized the ballot petition to her massive social media following, and called for low-income white people to coalesce with oppressed black and brown communities. Fonda claims they all share a "common enemy," and therefore must band together to "fight for social, political and economic equality."
"It has become clear to me as I study, that multiracial coalition-building is what the ruling class, the corporate elite, are the most afraid of," Fonda wrote on her blog last week. "It is this fear of multiracial unity that explains why Trump and his surrogates play the racist card at his rallies and in his policy proposals. Poor and working class Whites must be made to believe that they have privileges and advantages not afforded [to] Blacks."