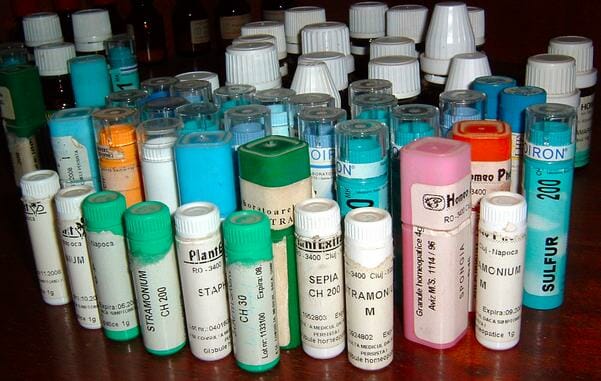 The FDA, on behalf of the pharmaceutical companies, is cracking down on homeopathic medicines, which increasingly have been competing with more expensive (and toxic) prescription drugs. An estimated six-million Americans now use homeopathic medicines. A recently released FDA 'guidance document' says that homeopathic medicines are considered as 'new drugs' being sold illegally (meaning without FDA approval and without a prescription). -GEG
The Food and Drug Administration (FDA) has reportedly declared that "virtually all" homeopathic drugs are illegal. Reports that the FDA is cracking down on the use of natural medicines have been circulating for a while. However, in a recently released "guidance document," the FDA is now quoted as saying that homeopathic drugs are considered "new drugs" that are allegedly being sold illegally.
The FDA released its new guidance document last month, and sources in support of the use of homeopathic drugs are still attempting to translate what the FDA is calling a "draft guidance" that's been released for "comment purposes only." Homeopathy is becoming an increasingly popular form of treating various diseases naturally for people worldwide.
According to the Homeopathy Research Institute, more than 200 million people now regularly use homeopathic drugs, with over 6 million people in the U.S. alone using homeopathy "for self-care of specific health conditions." More and more people are turning to homeopathic drugs versus prescriptions drugs due to alleged lower cost and fewer side effects. Natural medicines are also said to heal, rather than simply mask the symptoms of a disease.
With a growing number of the adult population around the world turning to homeopathy, as well as the recent "war on opioids" in the news, the FDA decided to announce new policies on the use of homeopathic drugs. An article on the Alliance for Natural Health USA from just over two weeks ago states that the FDA has effectively labeled "virtually every single homeopathic drug" as illegal, as outlined in the homeopathic guidance document.
In an attempt to decode the "FDA's current position" on the use and sale of homeopathic drugs, the previously mentioned article says that since not one homeopathic drug has yet to be approved by the FDA as being "safe and effective," then "all homeopathic drugs" are effectively illegal, and therefore, currently being sold illegally.
Citing the guidance document on the FDA website, homeopathic drugs are "marketed unapproved new drugs" with "potential safety risks" and "lack evidence of effectiveness." The document goes on to say that homeopathic drugs are considered "health fraud products," which, in turn, "present challenges" in getting the FDA's approval as new drugs. The FDA then goes on to outline a "risk-based" approach to regulating homeopathic drugs.
An article on Mercola from Tuesday states that both adults and children currently use homeopathic drugs because natural medicines are still considered "generally safe." Unlike some prescription medications, homeopathic remedies are also said to not carry the same risk of dependency, and according to Mercola, are "unlikely" to cause "severe" side effects.