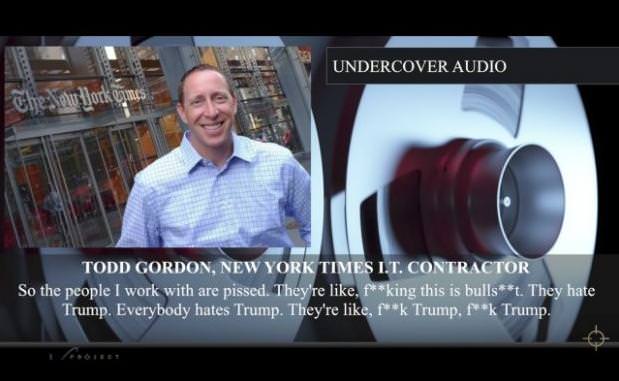 James O'Keefe of Project Veritas posted his fourth undercover video of an employee of the New York Times, Todd Gordon who has worked as a contractor for the paper for 20 years, admitting the paper has a liberal bias, everyone there hates President Trump, and their reports on him are unfair.
(transcribed by Project Veritas) An undercover video has just been released by Project Veritas of an IT Consultant for The New York Times, Todd Gordon, who was exposed in an undercover video confessing that the Times' anti-Trump bias is a company culture.
This is part four of their American Pravda NYT investigation.
Gordon, who has worked for The New York Times for twenty years, explains that the anti-Trump sentiment is a cultural belief shared by all employees:
PV Journalist: "Have you ever had anybody in New York Times' office come up to you and say, I actually enjoy Trump?"
Todd Gordon: "No, no, no."
PV Journalist: "Really?"
Todd Gordon: "Not one person."
PV Journalist: "Not one person?"
Todd Gordon: "Not one, not one. Everyone hates him. They hate him like the plague dude."
Gordon says that without a voice of dissent, it is impossible for the Times to be impartial towards Trump, "They unfairly, yes. I agree 100 percent. They unfairly report on him." He continues:
PV Journalist: "How can they report…"
Todd Gordon: "They can't."
PV Journalist: "Without being biased, right?"
Todd Gordon: "You're right, 100%. 100%."
He continues to explain how the lack of sourcing for the Russia story affects their coverage.

Todd Gordon: "Right, it's all been heresay. Maybe he did this, maybe he did that. You're right, 100%. They haven't been able to prove it."

PV Journalist: "But 100%, that's how I feel like Times…"

Todd Gordon: "You're right."

PV Journalist: "…has covered this, right?"

Todd Gordon: "Yeah, 100% you're right. It's all heresay."

PV Journalist: "You're in the office all the time, so you get to see it firsthand."

Todd Gordon: "Yeah, heresay, it's all heresay. And they're like grab that heresay and let's put it out there."