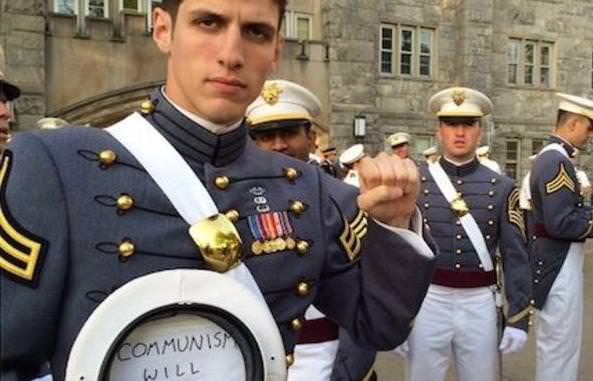 School teachers who advocate Marxism have been leading protests that call for violence, and the latest case took place at West Point, the famed US military school.
 Second Lieutenant, Spenser Rapone, posted photos of himself in his West Point uniform with the message "Communism will win" written inside his hat. West Point responded with the bland statement that this act violated rules against promoting political views while in uniform. Rapone's mentor at West Point is Rasheed Hosein, a professor of Middle East history who espouses Marxism. -GEG
The West Point mentor of a soldier now under investigation by the Army for engaging in political activity while in uniform is on administrative leave, Breitbart News has learned.
The adviser is Rasheed Hosein, a professor of Middle East history, who was in charge of Second Lieutenant Spenser Rapone's development at West Point.
A West Point spokesman confirmed he is on administrative leave but said it is unrelated to Rapone.
"We are unable to provide information regarding administrative actions but can confirm that the details are unrelated to 2nd Lieutenant Rapone," the spokesman said.
At West Point, Hosein had mentored Rapone. The two apparently traveled together to India together in 2014 and maintained a close relationship until Rapone graduated in May 2016.
Also during that time, Rapone's Facebook posts grew increasingly radical and leftist.
Rapone's activities caught the attention of command authorities this week after he posted photos of himself in his West Point uniform while promoting communism on social media.
On Sunday, Rapone posted a picture of himself in his West Point uniform holding a sign that said, "Communism will win" tucked under his cover, or hat, raising a clenched left fist.
He tweeted the photo along with the words #VeteransForKaepernick — a reference to football player Colin Kaepernick, the first player to kneel during the national anthem at a football game to protest racism.
On Monday, Rapone tweeted another picture of himself in his West Point uniform, exposing a Che Guevara T-shirt underneath with the caption "In case there was any lingering doubt, hasta la victoria siempre."
It is against Army regulations to wear the uniform "in connection with the furtherance of any political or commercial interests" or when participating in "public demonstrations" unless authorized to do so.
After the photo garnered widespread attention on Twitter, West Point quickly issued a statement distancing itself from Rapone.
"The U.S. Military Academy strives to develop leaders who internalize the academy's motto of Duty, Honor, Country, and who live the Army values. Second Lieutenant Rapone's actions in no way reflect the values of the U.S. Military Academy or the U.S. Army," it said.
"As figures of public trust, members of the military must exhibit exemplary conduct, and are prohibited from engaging in certain expressions of political speech in uniform," it said.
"The appropriate Command authorities are reviewing the situation," an Army spokesman told Breitbart News.
The Army confirmed that Rapone graduated from West Point in 2016 and is now serving as a second lieutenant with the 2nd Brigade Combat Team, 10th Mountain Division, based in Fort Drum, New York.
The unit issued its own statement that focused on uniform regulations.
"Both the Department of Defense and the Army have longstanding policies encouraging soldiers to participate in the democratic process. However, the Army has strict rules regarding the wear and appearance of Army uniforms."
Rapone's activism while in uniform appears to be much broader than those two photos.
On August 7, Rapone posted a photo on his Instagram account of himself in his Army uniform wearing a Democratic Socialists of America Membership nametag that says, "official socialist organizer."
Rapone's Instagram account was taken down Tuesday evening.
Rapone has also tweeted a number of provocative statements, including calling Defense Secretary Jim Mattis "the most vile, evil f*ck in the current administration" on June 7 from Columbus, Georgia.
A spokeswoman for the 10th Mountain Division confirmed to Breitbart News that Rapone had started Ranger School at Fort Benning, Georgia — near Columbus — in February 2017 but did not complete the course.
On February 11, he posted an article titled "Know Your (Gun) Rights! A Primer for Radicals — IT'S GOING DOWN." He also reposted a meme from a group called Anarchist People of Color criticizing "white privilege."
Rapone posted on several forums in support of Chelsea Manning, the Army soldier who went to jail for leaking classified intelligence to WikiLeaks. He posted January 18 on Facebook, "May we all learn from her example of what integrity and strength of conviction truly entails."
Sometime last year, he posted a picture on Instagram of an Antifa flag in his room next to a print of Che Guevara. "New room decor … until it's flying proudly in the streets. #AntiFa," he wrote, according to a picture obtained before he took down his account.
Rapone has also posted on Facebook a picture of himself holding up the Communist Manifesto, with his Army dress uniform hanging in the closet in the background and a number of posts showing opposition for Trump policies and administration officials and support for Sen. Bernie Sanders (I-VT) at least since 2015.
His father, a local official for Lawrence County, Pennsylvania, issued his own statement, disavowing his son's political views. "In regards to my son Spenser Rapone, I disavow his political views and overall politics. I am very disappointed in the direction he has chosen and as his father it greatly saddens me," Richard L. Rapone posted on his Facebook page, adding:
As a young man, Spenser personified patriotism and in high school was a member of the Civil Air Patrol. He applied to be a West Point cadet and at that time he as not selected. He enlisted in the United States Army right out of high school. Later, he served as an Army Ranger and was deployed to Afghanistan on special mission.

He applied once again to West Point and was accepted. It's my belief when he returned back from Afghanistan there was a notable difference in his political views. Spenser is my son and I love him dearly however I do not like nor condone his politics, his actions or behavior.
The elder Rapone's Facebook page has been taken down as of Wednesday.
According to photos on Rapone's Facebook page, he became close to Hosein, a Ph.D. in Islamic history from the University of Chicago. The two appear to have traveled together to the Taj Mahal in March 2014, according to pictures posted on his Facebook page.