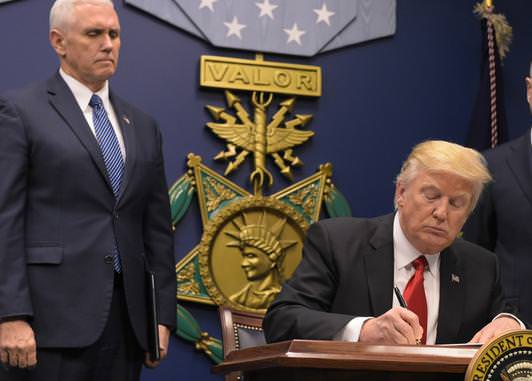 The Supreme Court canceled arguments for the dispute over Trump's travel ban following the announcement that the President was adding eight new countries to the ban and that it has no expiration date. -GEG
Against the backdrop of a revised set of administration rules on visa issuance and restricted nationalities; and considering the previously argued 'Trump travel ban' guidelines expired Sunday; the Supreme Court has cancelled their hearing of arguments in opposition to the former travel restrictions and visa guidance.
(Via Associated Press) – 1:40 p.m. – The Supreme Court has canceled arguments set for Oct. 10 in the dispute over President Donald Trump's travel ban, after Trump rolled out a new policy Sunday.

The unsigned order from the justices Monday asks both sides to weigh in by Oct. 5 about what to do with the case.
The court had been ready to hear argument about the legality of a 90-day ban on travelers from six mostly Muslim countries and a 120-day ban on refugees from around the world.

The ban expired Sunday and was replaced by a new policy that affects eight counties and has no expiration date.  Those countries are Chad, Iran, Libya, North Korea, Somalia, Syria, Venezuela and Yemen.  Chad, North Korea and Venezuela were not covered by the earlier ban. (link)
In addition both Chad and Venezuela are pushing back against Homeland Security guidance that led to their inclusion on the revised travel restrictions:
♦Chad's government says it learned "with astonishment" of the decision by the U.S. government that its country is on a list whose nationals will be prohibited from entering the United States.

A government statement Monday said the government expresses its incomprehension about the "official reasons for this decision; which contrasts with Chad's constant efforts and commitments in the fight against terrorism at regional and global levels."

Chad's government called for a better appreciation of the situation and for Trump to reconsider the decision which it says "undermines the image of Chad and the good relations between the two countries." (LINK)

♦Venezuelan President Nicolas Maduro (nee-koh-LAHS' mah-DOO'-roh) says the Trump administration's decision to include Venezuelan officials on a travel ban is a form of "political and psychological terrorism."