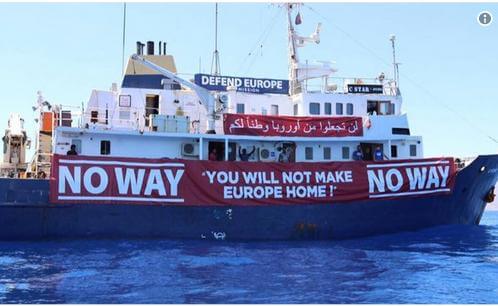 Three NGOs (non-governmental organizations), Doctors Without Borders, Save the Children, and Sea Watch, have suspended migrant search and rescue operations in the Mediterranean. This is in response to threats from the Libyan Coast Guard, which says it will shoot at any such operations. Although the NGOs and mainstream media are playing this as a heartless disregard for the safety of refugees and rescue workers, the rest of the story is that Italy and Libya know that NGOs are colluding with human traffickers and with George Soros' Open Society Foundation to bring about civil unrest and cultural conflict in Europe. –GEG
Three NGOs have suspended migrant search and rescue operations in the Mediterranean citing threats from the Libyan Coast Guard, leaving what they describe as a "deadly gap" in the area.
Doctors Without Borders (MSF) said it would suspend search and rescue activity of its ship, 'Prudence,' saying on Saturday that the vessel would cease operations because of "hostility" from Libya.
Save the Children and Sea Watch on Sunday also suspended their ongoing rescue operations in the Mediterranean over the same safety fears.
Libyan authorities announced a new search and rescue zone off its coast earlier this week, which MSF says extends into international waters.
Libya has restricted the access of humanitarian vessels carrying out rescues in international waters, as part of a bilateral attempt with Italy to control the flow of illegal migration across a Mediterrenean channel between the two countries.
MSF said the Italian Maritime Rescue Coordination Centre (MRCC) warned the NGO of the security risks associated with threats made by the Libyan Coast Guard to search and rescue vessels.
"European states and Libyan authorities are jointly implementing a blockade on the ability of people to seek safety," Brice de le Vingne, MSF's director of operations, said. "This is an unacceptable assault on people's lives and dignity."
MSF's Loris De Filippi told Reuters the Libyan Coast Guard demanded the NGOs leave an area as big as hundreds of kilometers around its coast, where it had previously been allowed to carry our search and rescue.
Catalan NGO Practiva Open Arms accused the Libyan Coast Guard of firing warning shots at its boat and threatening the crew last week.