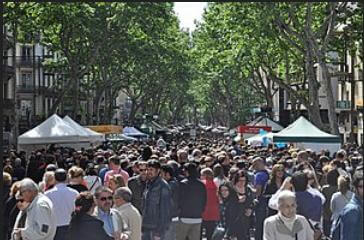 Barcelona: A white van drove into a crowd of pedestrians, killing 13 and injuring more than 100.  The driver fled the scene and was not apprehended. Police arrested two brothers from Morocco who may have rented or stolen the van.  There was a another attack involving a vehicle that ran over two police officers, but there is no link between the two incidents at this time. –GEG
The Islamic State took credit for an attack in Barcelona Thursday that left 13 people dead and more than 100 injured after a van drove into a crowd of pedestrians.
Amaq News Agency, a media outlet linked to the terror group, called the attackers "soldiers of the Islamic State" in a statement released shortly after the incident.
"The perpetrators of the Barcelona attack are soldiers of the Islamic State and carried out the operation in response to calls for targeting coalition states," the outlet said.
Another image shared online depicts a blood-stained tire with the words "run over them without mercy."
Although a separate vehicle ran over two police officers in another part of the city two hours after the initial attack, neither authorities nor the Islamic State have thus far linked the two incidents.
Supporters of Islamic State were also seen celebrating the Barcelona attack over the encrypted chat app Telegram.
According to Spanish newspaper El Pais, two men were apprehended by law enforcement in connection with the attack. One man, 28-year-old Morocco native Driss Oukabir, is said to have rented the van used in the attack – although reports indicate that Oukabir has since contacted police to accuse his brother, Moussa, of stealing and using his identification.