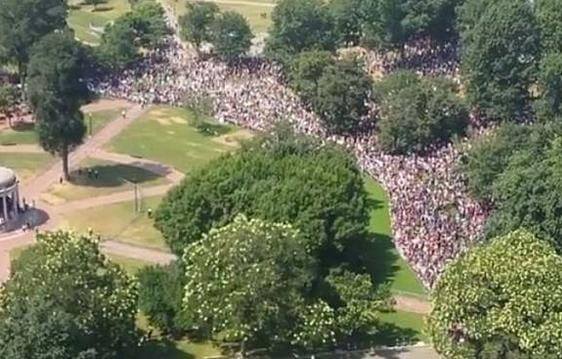 Boston: A free-speech rally fizzled and attracted fewer that 100 people before it was shut down. As many as 40,000 people gathered to oppose the rally, having been told it was linked to racism, fascism, and the Charlottesville violence. –GEG
A Boston, Mass., free speech rally was cut short after police officers escorted the participants from the premises early Saturday afternoon.
The "Free Speech" rally, hosted in the Boston Common for "libertarians, conservatives, traditionalists, classical liberals, Trump supporters or anyone else who enjoys their right to free speech," ended about an hour after it started, with Boston police officers showing up to escort some of the participants from the area, reports MassLive.
Only about 40-60 people showed up in support of the free speech event, while thousands of counter-protesters came out to rally against the "Free Speech" rally, according to local media reports. One of the speakers for the event said the rally ended up "falling apart" due to poor planning on the part of the organizers.