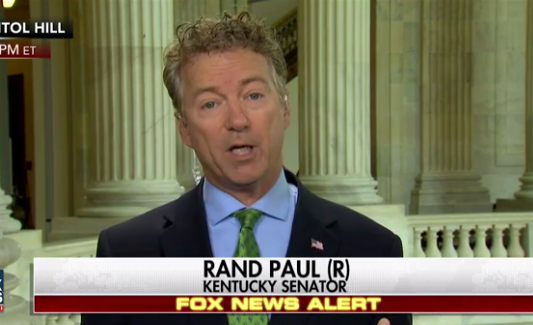 Senator Rand Paul objects to the Republican version of ObamaCare, because federal money will be used to guarantee at least $300 billion for insurance-company profit. He also wants to stop the "refundable tax credit", which is a subsidy by another name.  He says it boggles his mind how these became a Republican idea.  He says the programs will be there 'forever' [meaning until America collapses in economic ruin]. -GEG
President Donald Trump and House Republican leaders just finished their victory lap over the House passing a sweeping health care bill, but they might want to hold their horses until the legislation passes the Senate.
On "Your World" today, Sen. Rand Paul (R-KY) acknowledged that the House Freedom Caucus made the bill "less bad" before it was passed, but he said it has a ways to go.
He explained that this will be the first time Republicans have put their "stamp of approval" on a program where taxpayer money will be paid to insurance companies.
"I really frankly am not too excited about subsidizing the profit of insurance companies," Paul said, noting that their profits already went from $6 billion to $15 billion annually under ObamaCare.
"There's about $300 or $400 billion in this bill for insurance company profit," Paul said. "It boggles my mind how that became a Republican idea."
Neil Cavuto remarked that it sounds like Paul would be a "no" vote right now.