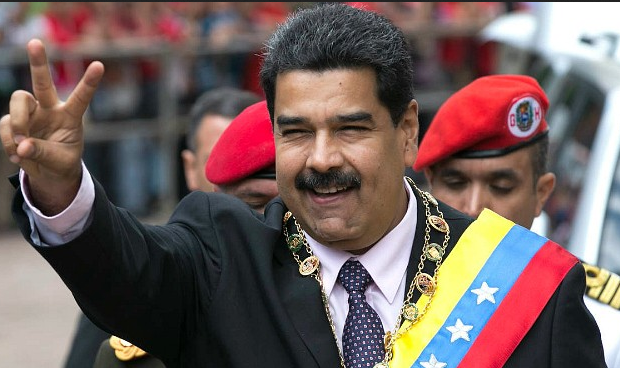 The poor in Venezuela, who traditionally are strong supporters of Communist governments, have become angered at the lack of food available to them, and the middle class is angered at the collapse of the economy. Now that the inevitable consequences of collectivism have arrived, Marxist rhetoric is no longer convincing. President Maduro and his supporters are becoming desperate and are resorting to brutal violence to maintain control in the face of food riots. –GEG.
CARACAS, Venezuela —

In the cramped hillside slums where they once adored Hugo Chávez, hungry families now jeer and bang pots at the man struggling in his shadow, President Nicolás Maduro.

Chávez, a master showman who promised his country a socialist "revolution," loved to wade through crowds of poor Venezuelans, blowing kisses and dispensing hugs. But when his successor has ventured out in public in recent months, he's been pelted with eggs and chased by angry mobs.

"Maduro is so different," said Irene Castillo, 26, who lives in El Guarataro, a tough neighborhood not far from the presidential palace. She voted for Maduro in 2013 when Chávez died after 14 years in power. But no one on Castillo's block supports the government anymore, she said. "Now, those who remain 'chavistas' are just the radicals."

As the country's bloody, volatile, month-old protest movement hardens into a prolonged standoff between demonstrators and the government, the loyalties of poorer Venezuelans like Castillo have become a swing factor in determining whether the president will survive.

The thousands of demonstrators pouring into the streets in recent weeks are mostly middle class, outraged by Venezuela's economic collapse and the government's increasingly authoritarian rule. But Venezuelans from longtime chavista strongholds are starting to join them, at considerable risk. Residents of Castillo's neighborhood protested openly against Maduro for the first time last week.

Pro-government block captains in neighborhoods like El Guarataro have responded by threatening to deny food rations to those who march with the opposition or fail to join pro-Maduro rallies. Militia groups armed by the government and known as "colectivos" are deployed to intimidate would-be defectors and are suspected in the deaths of several protesters.