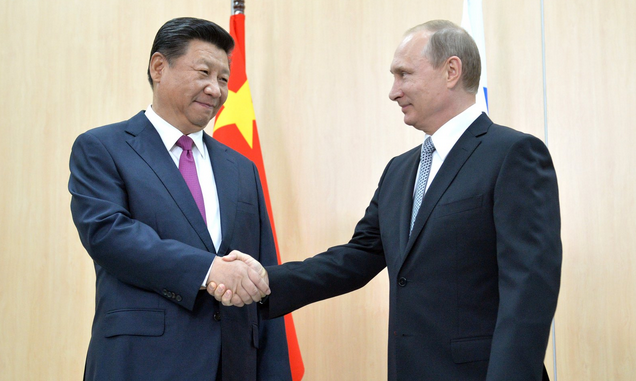 China and Russia are coming into the final stage of replacing the US dollar as the world's reserve currency. The first step is to trade with each other in their own currencies. This will greatly reduce the impact of the current US economic sanctions against Russia. The US dollar will lose $59.5 billion in foreign-exchange support – and that is just the beginning. –GEG
Two years ago, ICBC, the largest and most valuable bank in the world by total assets and market capitalization, was planning to open a clearing bank in Russia for trade settlements in Yuan (Renminbi) and Rubles. ICBC's business involvement include electricity, mining, chemical, oil and gas, telecommunication, retail, machinery and metallurgy sector in Russia.
It makes perfect sense to get rid of US dollar. Why must China and Russia conduct their business transactions using their rival's currency? The US dollar is so strong because 80% of world trade take place in US dollar. Besides military might and power, the high demand for US dollar is also driven by perception that it's the safest currency simply because US is also the world's biggest economy.
Last month, China and Russia decided to break their dependency on US dollar in their bilateral trade and investment. Bank of Russia, the Russia's central bank, opened its first overseas office in Beijing on March 14. A week later, ICBC (Industrial and Commercial Bank of China) officially opens for business in Moscow – as a clearing bank for Yuan / Renminbi.
"Financial regulatory authorities of China and Russia have signed a series of major agreements, which marks a new level of financial cooperation. The launching of Renminbi clearing services in Russia will further expand local settlement business and promote financial cooperation between the two countries." – said Dmitry Skobelkin, deputy governor of the Central Bank of the Russian Federation.
With the creation of the clearing banks, they enable the two countries to further increase bilateral trade and investment while decreasing their dependence on the US dollar. At the end of 2015, the Russian central bank announced the inclusion of the Yuan / Renminbi in its national foreign exchange reserves, making it Russia's officially recognized reserve currency.
More importantly, the "de-dollarization" cooperation between Beijing and Moscow is also part of anti-money laundering and anti-terrorism efforts. However, amusingly, by creating a huge pool of Yuan / Renminbi liquidity in Russia, it appears China is creating a workaround solution to the sanction-hit Kremlin – a backdoor economic relief.
Coincidently, the setup of clearing banks at each other's side was timed in such manner that Russian Ministry of Finance is to launch US$1 billion worth of Yuan bonds. The bond issuance, scheduled to take place in one or two months, could be used as test bed for Moscow to raise more money in the future.
Suddenly, Beijing is seen as providing a new breath of life to Russia's struggling economy. Screw the U.S. for slapping Russia with an "indefinite" sanction for its annexation of Crimea. And with President Trump screaming, whining and bitching about China's currency manipulation, the U.S. could do something as crazy as sanctions on China too.