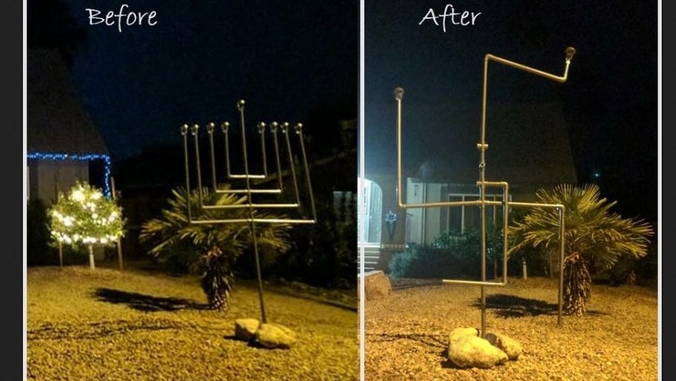 Chandler, Arizona: A 19-year old black man and three male juveniles were arrested on suspicion of contorting a Jewish family's light-up menorah, made from PVC pipe, into a swastika. This act of vandalism was done in December of last year and described as a hate crime. -GEG
Four people have been arrested on suspicion of contorting a Chandler family's decorative light-up menorah into a swastika in December.
Chandler police responded early on Dec. 30 after Naomi and Seth Ellis said they woke up to find a menorah, which they had placed in their front yard, disfigured overnight into the shape of a swastika.
Seth Ellis, who works in construction, had built the 8-foot-tall menorah out of PVC pipe. Ellis' children had seen Christmas displays and had asked their father if they could have a display to celebrate their Jewish faith.
One of the suspects was identified by Chandler police as 19-year-old Clive Jamar Wilson. The other three suspects are male juveniles, according to Sgt. Daniel Mejia, Chandler police spokesman.
All four were arrested on suspicion of first-degree criminal trespass and aggravated criminal damage.