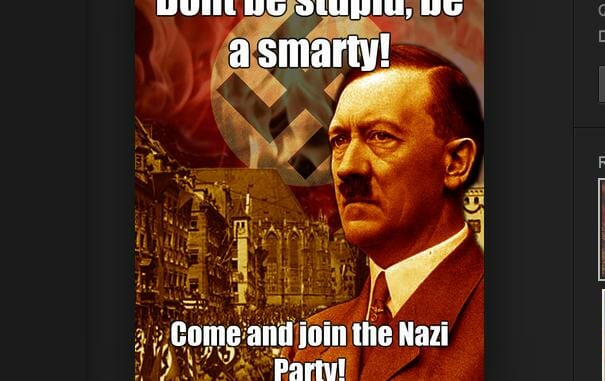 State of New York Purchase College student, Gunnar Hassard, was arrested and charged with 'Aggravated Harassment' for hanging posters with Nazi symbolism. The problem with laws that prohibit freedom of speech for those you detest is that they can be used by those you detest to prohibit your free speech. The reversal always is only an election away. -GEG
In New York, Aggravated Harassment is a hate crime when anyone "Etches, paints, draws upon or otherwise places a swastika, commonly exhibited as the emblem of Nazi Germany, on any building or other real property."
The law is unconstitutional because the government is not empowered to single out attitude or political opinion as a violation of the law. It can protect property from damage or defacement, but to claim that the damage or defacement is related to the message of the poster or flyer is not allowed – no matter what we may think of the message. Otherwise, the door will be open for those who hold political power to outlaw public expression of any opinion they choose – including ours.
[SUNY] Purchase College student Gunnar Hassard was arraigned in Harrison Town Court for Aggravated Harassment in the First Degree, a class E felony, for hanging posters with Nazi symbolism in areas of the campus….

On Sunday evening Dec. 8, 2018, during the Jewish celebration of Hanukkah, the felony complaint alleges that 18-year-old Gunnar Hassard of Oneonta, NY, and a student at SUNY Purchase, hung multiple posters, which incorporated a swastika and symbols of Nazi Germany, on and near the Humanities Building.

The complaint states that the defendant posted multiple flyers on the campus "frequented and utilized by members of the Jewish community … causing alarm, fear and annoyance to the members of the campus community during the Jewish holiday of Hanukkah."

New York State University Police arrested Hassard and charged him with Aggravated Harassment, a hate crime which specifically states a person is guilty of this crime when one "Etches, paints, draws upon or otherwise places a swastika, commonly exhibited as the emblem of Nazi Germany, on any building or other real property."
As readers might gather, I have only contempt for neo-Nazis. But the statutory provision to which the D.A.'s office is referring, N.Y. Penal Law 240.31, is unconstitutional. The relevant part of the statute reads,
A person is guilty of aggravated harassment in the first degree when with intent to harass, annoy, threaten or alarm another person, because of a belief or perception regarding such person's race, color, national origin, ancestry, gender, religion, religious practice, age, disability or sexual orientation, regardless of whether the belief or perception is correct, he or she:

Etches, paints, draws upon or otherwise places a swastika, commonly exhibited as the emblem of Nazi Germany, on any building or other real property, public or private, owned by any person, firm or corporation or any public agency or instrumentality, without express permission of the owner or operator of such building or real property.
And that impermissibly singles out a particular message based on its content and even its viewpoint, which is unconstitutional under R.A.V. v. City of St. Paul (1992) (and Virginia v. Black (2003)).
Now the government can generally criminalize the posting of all signs on private property without the owner's permission. It could likewise criminalize the posting of all such signs on government property; and the government as landlord can even set up rules that impose content-based but viewpoint-neutral constraints on what is posted on its property. (SUNY, for instance, can probably bar the posting of signs that contain vulgarities, even though the government can't generally criminalize vulgar speech.) But it can't target for special criminal punishment racist signs, or anti-government signs, or signs critical of various religious, sexual orientations, or what have you. Just as R.A.V. held that a ban on racist "fighting words" is unconstitutional even if a ban on "fighting words" generally is constitutional, so a ban on unauthorized signs that display a swastika is unconstitutional even if a ban on unauthorized signs generally is not.
Nor does the requirement that the speech be intended to "harass, annoy … or alarm" change the analysis. I don't think that general bans on publicly posted speech intended to harass, annoy, or alarm are constitutional, see People v. Golb (N.Y. 2014) and People v. Marquan M. (2014); but even if they were, they again can't single out swastikas.
A ban that is limited to "true threats" of violence would be constitutional, and it's possible that a ban on true threats that use swastikas would be constitutional, too, by analogy to the ban on true threats consisting of cross-burning that was upheld in Virginia v. Black (2003); the theory would be that swastikas are especially threatening, so a law banning threatening swastikas just focused on the most dangerous subset of the forbidden category. But this statute is not limited to true threats ("intent to … threaten" is only a part of it), and there seems to be nothing in the press release or the news stories I've read that suggests that the swastikas were indeed true threats of violence. (Of course, seeing a swastika displayed can create some degree of generalized menace, but that's not enough to allow its prohibition, as Black held for cross-burning as well, where there's no specific threat.)
Swastikas are constitutionally protected, just as are hammers and sickles or burning crosses or images of Chairman Mao or other symbols of murderous regimes and ideologies. Public speech intended to "harass, annoy … or alarm" groups of people (whether Jews or conservative Christians or blacks or whites) is constitutionally protected. Posting things on other people's buildings isn't protected, but the law can't single out the posting of particular viewpoints for special punishment. And true threats of violence are unprotected, but the statute isn't limited to them, and I've seen no evidence of a specific true threat here.