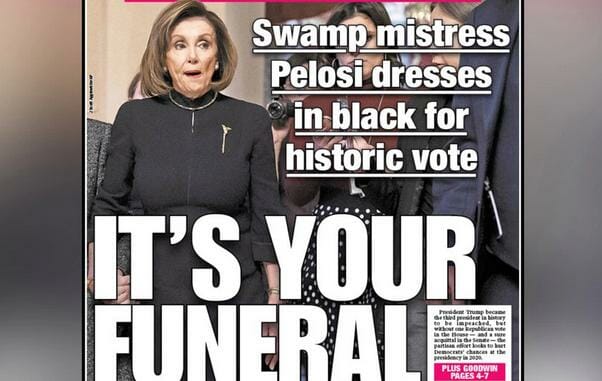 The Democrat-majority House of Representatives has impeached President Trump on charges of abuse of power and obstruction of Congress, neither of which is grounds for impeachment according to the Constitution. The first charge is based on Trump's pressuring the president of Ukraine to investigate the son of his political rival, Joe Biden. The second charge is based on the claim that Trump blocked subpoenas and, in some instances, refused to allow senior officials to testify before Congress [The irony of these charges is that Presidents of both parties have a long record of doing these things, which means that impeachment now will be based, not on Constitutional law or even on principle, but solely on party loyalty. From now on, it will be possible to Impeach any minority-party president whether Republican or Democrat. There goes one more of those precious checks and balances that are so essential to a free society, because the common man losses either way.] -GEG
The impeachment of President Trump is more about the future than it is about the present.
The present-day consequences aren't trivial, to be sure. There will be a trial, which will no doubt deepen our national polarization. And henceforth, in the history books, Trump will go down as an impeached president — one of a precious few.
Or at least, a precious few for now. The count isn't apt to stay small in coming decades.
There was only one impeachment, Andrew Johnson's, in the first century of constitutional governance. There wasn't another one for a century after that, with President Richard Nixon and Watergate. Knowing he would almost certainly be impeached in the House and convicted in the Senate, Nixon spared the nation by resigning.
It was another quarter-century until President Bill Clinton's impeachment and acquittal by the Senate. That was 20 years ago. But it won't be two decades until the next one. Bank on it.