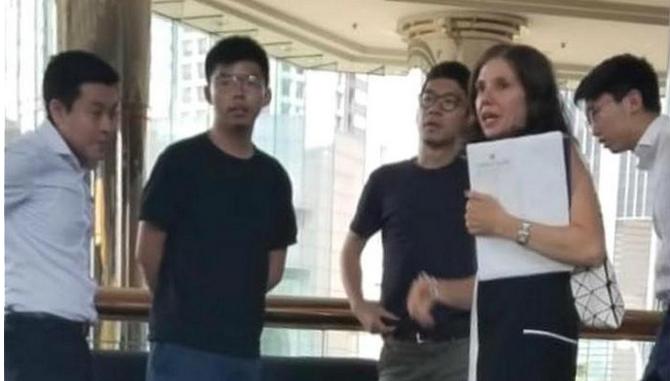 Chinese officials accused Julie Eadeh, of the US Consulate General in Hong Kong, of collaborating with pro-independence activists in Hong Kong who were protesting against mainland China. China's state media accused her of being a subversion expert and a covert CIA agent who was sowing dissent and creating unrest. The Chinese government then leaked the American diplomat's private information, pictures, and even names of her children. -GEG
update: The US State Department has released a statement in response to Chinese officials and state media accusing a US diplomatic official based in Hong Kong of interfering in Chinese affairs. State media widely reported on a viral photo showing US foreign service agent Julie Eadeh – identified as the political unit chief of the US Consulate General – meeting with leading anti-Beijing activists at a Hong Kong hotel on Tuesday amid continuing unrest in the semi-autonomous city.
A State Department spokesperson on Thursday afternoon issued a statement calling China a "thuggish regime" for releasing details on the US diplomat stationed in Hong Kong.
"I don't think that leaking an American diplomat's private information, pictures, names of their children, I don't think that is a formal protest, that is what a thuggish regime would do," spokeswoman Morgan Ortagus told a news briefing. "That is not how a responsible nation would behave."

Multiple Chinese state media reporters previously referred to Eadeh as a "subversion expert" who is in contact with Hong Kong protest organizers in order to fuel chaos and unrest in the city.

China earlier in the day summoned US consulate officials over the matter, demanding answers.

***

previously

After a viral photo surfaced this week revealing continuing contact between well-known Hong Kong pro-independence protest leaders and a US diplomatic officer, China has summoned US consulate officials stationed in the city, Bloomberg reports.

According to a statement from Office of the Commissioner of the Ministry of Foreign Affairs in Hong Kong, Chinese officials asked the Americans to clarify media reports that a US diplomat had contacted the local protest leaders. Bloomberg reports the clear firm message sent that "China firmly opposes any contacts with them and urges U.S. to stop sending wrong signals to violent law breakers in Hong Kong."

As well organized anti-Beijing protests have raged and continued to escalate this summer over the deeply controversial extradition bill, Beijing authorities have repeatedly blamed a US "hidden hand" for fueling the crisis.

Pro-Beijing publications reported that protest leaders and key organizers Joshua Wong and Nathan Law had met with American consular official Julie Eadeh in the late afternoon on Tuesday at the JW Marriott Hotel in the Admiralty area of Hong Kong.