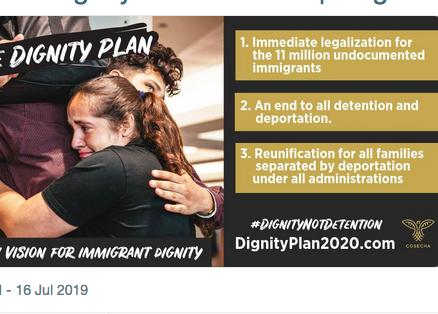 Washington, DC: On Tuesday, over a thousand pro-illegal immigration activists, led by the Jewish organization 'Never Again Action Group' and 'Movimiento Cosecha', shut down the entrances to ICE headquarters to protest the treatment of migrants and to demand the closure of detention facilities. Demonstrators linked arms and stood in front of doors and entryways. The action lasted five hours, and dozens of people were reported to have been arrested. They demanded immediate legalization for all illegal aliens and an end to deportations. Democrat Speaker of the House, Nancy Pelosi, is under fire from these groups for approving legislation that authorized $4.6-billion to ICE and other immigration agencies. -GEG
Protesters with a Jewish group have blocked the exits of the U.S. Immigration and Customs agency in Washington, D.C., as part of an effort to "shut down ICE."
The group, Never Again Action, has promoted #ShutDownICE protests in various cities across the country in recent weeks. On Tuesday, dozens of activists gathered on the National Mall before proceeding to the ICE headquarters. Once there, the demonstrators linked arms and stood in front of doors and entryways.
Some of the protesters reportedly said that they expected to be arrested during the demonstration. Nearby the Washington headquarters they hung a banner over a bridge that read, "PELOSI, NEVER AGAIN IS NOW
Some employees appeared frustrated when they realized they couldn't get into their office. Police were camped inside the ICE headquarters, locking the doors as the protesters descended upon the building.
Additional source:
https://www.thegatewaypundit.com/2019/07/breaking-illegal-immigrant-group-shuts-down-ice-headquarters-in-washington-dc-several-arrests-made-videos/