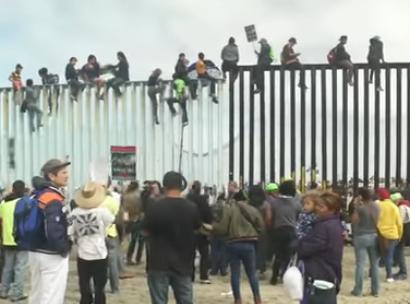 According to a poll recorded in 2016, a stunning 67% of Republican voters thought mass immigration was a critical threat, but only 16% of GOP leaders agreed that it was a serious problem. Politicians serve their donors instead of their constituents, which has led to bad US immigration policies and open borders.
Who are these people?
Who are these people that go to Washington and pretend to represent the people?
This is not immigration – this is an invasion.
Matthew Schmitz at First Things reported in his May article on immigration just how distant GOP leaders are from their voting base.
No wonder President Trump won the 2016 election. He's the ONLY POLITICIAN that wants to do anything about America's open borders.
We need more Trump supporters in Congress.
A 2016 survey by the Chicago Council on Global Affairs found that 67 percent of Republicans think the arrival of large numbers of immigrants and refugees is a critical threat to the U.S. Only 16 percent of Republican leaders think so. A similar, but smaller, divide exists on the Democratic side, where only 4 percent of Democratic leaders view current immigration levels as a critical threat, compared to 27 percent of their public. Nor is the divide limited to any one race. In 2018, the Pew Research Center found that "Latinos with lower levels of education are more likely than those with at least some college education to say too many immigrants are living in the country today."