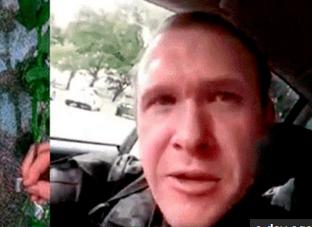 A mass shooting in New Zealand is linked to American politics in a strange manifesto that is a mixture of motives and ideologies. As usual. the event is being used as an excuse to crack down on peaceful citizens' rights to have guns to protect themselves from such shootings. -GEG
New Zealand: Last Friday, a shooter walked into a packed mosque in Christchurch and opened fire on worshipers, live-streaming the act to social media. After killing 41 people, he drove to another mosque and murdered seven more. One more person died in the hospital. Brendon Tarrant, from Australia, was arrested as the prime suspect, and two more men and a woman also were arrested as possible accomplices.

Shortly before the attack, Tarrant published a 75-page manifesto with the title 'The Great Replacement,' vowing revenge against Muslim immigrants, calling them invaders. The content of Tarrant's manifesto raises the possibility that it may have been written, not by him, but by someone or group that seeks to create public opinion against those who oppose mass immigration. For example, he is described in the media as a white supremacist, right-wing extremist, but in his manifesto, he says that China is the "nation with the closest political and social values to my own." Tarrant is an Australian, but his manifesto is obsessed with American politics and culture. He blames black-American conservative, Candace Owens, for his violence and he advocates race war between the American right and left.
.
As usual, politicians are using this shooting as an excuse to crackdown on the right of law-abiding citizens to defend themselves. New Zealand's Prime Minister Jacinda Ardern sprang into action immediately and called for stricter gun-control laws. On Saturday, she wore a hijab,apparently to show solidarity with the victims.

Sources:
https://www.newshub.co.nz/home/new-zealand/2019/03/christchurch-terror-attack-timeline-of-the-events.html
https://www.zerohedge.com/news/2019-03-16/nz-threatens-10-years-prison-possessing-mosque-shooting-video-web-hosts-warned
Link to Tarrant's manifesto: http://i.4cdn.org/pol/1552784823533.png