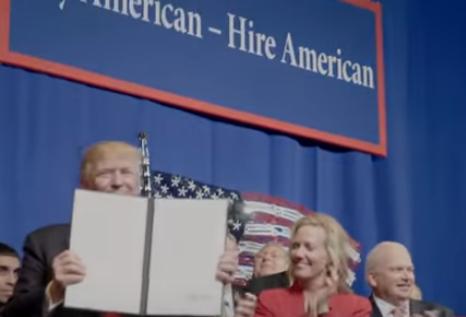 Last week, President Trump declared during his State of the Union speech that "I want people to come into our country in the largest numbers ever, but they have to come in legally." The press focused on the "come in legally" part and ignored the "largest numbers ever" part. Critics say this is the abandonment of his Hire-American campaign promise. They say that Mr Trump hopes to appease big-business and high-tech employers who want to import cheap "visa workers" instead of hiring Americans at market rates. Trump now says the US needs more people to immigrate because unemployment is so low. [Strange! We thought low unemployment is good for American workers.] The flood of one-million legal immigrants per year plus visa workers plus illegal immigrants, is good for Wall Street profits. Every $1 saved in salaries creates roughly $15 in extra stock-market value. [Could that be the amount deducted from the standard of living of American workers?] -GEG
President Donald Trump suggested that he is ready to ditch his Inauguration Day promise of a "Hire American" economic policy — even though thousands of auto workers are being laid off, millions of Americans do not have jobs, and many millions of Americans cannot get better-paying jobs.
The huge policy shift in favor of employers and investors is emerging after Congress blocked his border wall and his border security reforms, and after the GOP-led Congress passed Trump's tax cut.
"It is fair to say that the President is abandoning his Hire American policy," said Mark Krikorian, director of the Center for Immigration Studies.