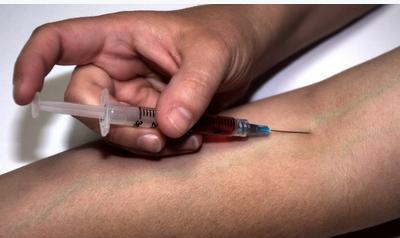 Starbucks introduced its 'Third Place Policy' that treats everyone like customers, even if they do not make a purchase. This is in response to being called 'racist' after two black men were asked to leave when they refused to buy anything. With this new policy in place, drug addicts and homeless are using Starbucks bathrooms to shoot up drugs. When employees complained that they were accidentally poked by dirty needles in blood-spattered bathrooms, Starbucks installed needle-disposable boxes in those bathrooms. -GEG
You're gonna love the new Starbucks!
Starbucks is being forced to make a minor tweak several months after it implemented its social justice warrior "Third Place Policy" which means employees should consider anyone who enters the establishment a customer regardless whether they make a purchase.
As a result, homeless drug addicts immediately began shooting up heroin and other drugs inside of Starbucks' bathrooms. Employees complained that the bathrooms would be blood-spattered and littered with needles at the end of the day.
Careful not to offend the homeless drug addicts who only use the establishment to shoot up, Starbucks unveiled a progressive solution after thousands of employees signed a petition.
Starbucks is installing needle-disposable boxes after the baristas were poked with syringes and found drug baggies and blood all over the walls in bathrooms,