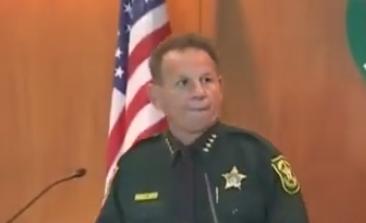 Broward County Sheriff's Deputy, Scot Peterson,  is now retired and receiving a full pension of more than $100,000 per year, despite refusing to confront Eric Cruz, accused of shooting and killing 17 people at the the Marjory Stoneman Douglas High School in 2018. Critics say that Sheriff Israel allowed Peterson to keep his pension as a political favor for protecting Israel's son from prosecution for a sexual assault crime.
Real Clear Investigations says that a 2014 school incident report shows Sheriff Scott Israel's son, Brett, was 17 when he participated in a sexual assault against a 14-year old boy at the Marjory Stoneman Douglas High School. Instead of referring the assault case for criminal prosecution, Peterson called for the Sheriff's son merely to be suspended from school for three days. -GEG
Parents of children gunned down in the Parkland school shooting in Florida last year have never understood two actions taken by Broward County Sheriff Scott Israel: his refusal to fire a campus-based deputy who failed to enter the school during the rampage that took 17 lives, and his continued defense of controversial Obama-era school policies that allowed the  accused shooter, Nikolas Cruz, to avoid arrest and a police record and thereby purchase the murder weapon.
Some now think they have found the answer in a single incident that occurred in 2014. A police report shows that's when Israel's then-17-year-old son, Brett, was accused of participating in a sexual assault of a 14-year-old boy at Marjory Stoneman Douglas  High School.
The case was investigated by Scot Peterson — the armed deputy who took cover while children and staff were shot last February. Using the Obama-era guidelines, Peterson's recommendation helped his boss's son receive just a three-day suspension.
"Everyone in this county is wondering why Peterson was allowed to retire so quickly and take his pension," said local attorney Alex Arreaza, who represents victims of the school tragedy. "Normally deputies  would not be allowed to retire under those circumstances, but in this case, Peterson was allowed to. This report gives a plausible reason," he said.
According to the four-page report filed by Peterson, the victim, who was a freshman at the time, alleged that Israel, then the school's starting quarterback, held him  down while another senior kicked him, grabbed his genitals and rammed a  baseball bat between his buttocks, simulating rape.
People familiar with the case say Peterson could have referred Israel for felony charges, but reduced the crime to "simple  battery," making him eligible for a leniency program requiring no arrest. "The school district's disciplinary matrix requires no law  enforcement action required regarding the incident," the deputy wrote.
"A child was sexually assaulted and Peterson reduced the charges to fit a matrix and report it as information. This allowed the  deputy to put it away and not do anything," said Arreaza, who is suing both Israel and Peterson on behalf of Anthony Borges, a  Stoneman Douglas student who survived the massacre, despite being shot five times.
Arreaza said that the same lax disciplinary culture meant Cruz was never expelled or sent to the juvenile justice system despite committing  multiple offenses every year throughout middle and high school. Peterson was warned at least twice of the threat Cruz posed  as an active shooter,  but failed to investigate the matter. Peterson had an office on the Stoneman Douglas campus, where he'd been posted for nine years.
While Israel publicly criticized Peterson for inaction during the shooting, he didn't fire his deputy, instead letting him resign and  receive a public pension of almost $105,000 a year (not including health-care benefits). The 55-year-old Peterson will collect  monthly payments of more than $8,700 for the rest of his life.
Arreaza suspects that Israel protected Peterson because the deputy protected his son from prosecution, adding that Israel tried to keep  the four-year-old incident report under tight wraps. After the report was leaked to him, Arreaza said that "a BSO [Broward Sheriff's Office] attorney called me to try to scare me into not doing anything with it." RealClearInvestigations has obtained a full, unredacted  copy of the report, but is withholding the name of the victim.
Andrew Pollack, whose daughter Meadow died in the shooting, speculated that Peterson's dispensing of the case provided him with "job security." Pollack is also suing  Peterson,  whom he's slammed as "the coward of Broward."