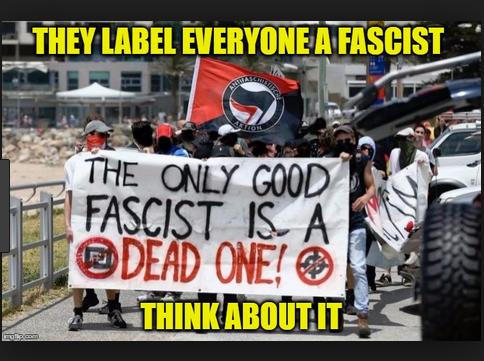 Philadelphia: During a rally by 'We the People' conservatives, a gang of male and female attackers, believed to be Antifa counter-protesters, maced, kicked and robbed two reservist Marines, calling the military men "Nazis" and "White Supremacists."  Antifa protesters are also accused of beating a Jewish man they falsely accused of being a
Proud Boy
.
.
Zach Rehl, an organizer from 'We the People', has been doxxed twice by Antifa.  The most recent incident resulting in an attack on his home leaving a broken window, smashed glass, and the word "Nazi" by his front door.  The perpetrators threw a brick through his window, which narrowly missed striking his girlfriend in the head.
Two Marine Corps Reservists were attacked, maced and robbed in Philadelphia on Saturday by a mob of male and female protesters who called the Marines "Nazis" and "White Supremacists", according to police. Antifa protesters were countering a so-called conservative "We the People" rally being held that day on Independence Mall. Police said several of the attackers were seen earlier at the protest.
Police reported the Marines were attacked blocks away from the rally by protesters who punched, kicked and maced them and stole a cellphone from one Marine. Police have not stated whether or not the Marines attended the rally.
Philadelphia Police took to social media seeking help in identifying suspects. Detective Paul Guerico posted to Twitter on Monday, "We need your help to identify these individuals responsible for robbing and assaulting 2 military reservists Please contact @PhillyPolice Central Detectives – SIU at 215-686-3047 @PPDFrankBanford @PPD06Dist"
Philadelphia Police posted a press release accompanied by a YouTube video:
On Saturday, November 15, 2018, at approximately 3:20 pm, the complainants, who are United States Military Reservists, were on the 100 block of S. Front Street, when they were approached by numerous males and females.
The group of suspects called the complainants "Nazis", and "White Supremacists". The suspects then maced the complainants, and then proceeded to punch and kick them.
During the assault, one of the complainant's had his cell phone stolen from him by one of the male suspects. The offenders then fled northbound on Front Street, towards Market.
Some of the individuals involved were captured on video at an earlier protest in the area. If you see these suspects do not approach, contact 911 immediately.
From Big League Politics:
The Philadelphia man who organized last weekend's patriotic "We The People" rally had his house vandalized and a brick thrown through his window, narrowly missing his girlfriend's face.
Zach Rehl tells Big League Politics he has now been doxxed by Antifa twice, with the most recent incident resulting in an attack on his home leaving a broken window, smashed glass, and the word "Nazi" by his front door.
To provoke this, Rehl says he organized a series of "We The People" rallies in Philadelphia, Pennsylvania. According to Rehl, these rallies celebrate America, and give mainstream conservatives and young people a chance to meet each other in the Democrat stronghold of Philadelphia.
Members of antifa posted fliers with Rehl's name, address, and a flimsy series of connections and half truths that purportedly proved his racist beliefs throughout downtown Philadelphia last Friday in preparation for a We The People rally, happening the following day near the historic Liberty Bell in downtown Philadelphia.