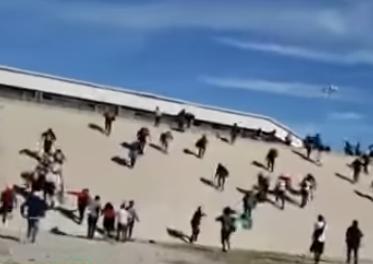 San Ysidro, California: Approximately 500 migrants who tried to "violently" cross the United States border will be deported by Mexican officials, according to 
Reuters. 
The US Customs and Border Protection
confirmed
that US border patrol agents were hit with projectiles thrown by violent Honduran migrants at the port of entry as hundreds of migrants pushed past Mexican riot police to rush the border.  After the border wall was broken, tear gas was deployed.  Migrants who were living in a makeshift shelter became fed up with their living conditions in Tijuana when they rushed the border and tried to confront US authorities with asylum requests.  Following the clash, US Customs and Border Protection closed all north and southbound vehicle traffic, along with pedestrian crossings at the port of entry from 11:30 am Sunday but was reopened by 6 pm.
.
On Saturday, the Washington Post reported that Trump had made an agreement with Mexico's new incoming government that would allow the caravan migrants to "remain in Mexico" while waiting for their asylum hearings, which could take years.  This policy was designed to stop the "catch-and-release" program that allowed migrants to enter the US and to deter future migrants.  The incoming Mexican administration of Andres Manuel Lopez Obrador has denied agreeing to the 'remain in Mexico' plan.
Update: Mexico will deport approximately 500 migrants who "violently" tried to cross into the United States, according to Reuters.
Officials closed the largest land crossing in North America on Sunday at San Ysidro as hundreds of migrants rushed the US border in an attempt to cross into the United States.
Migrants living in a makeshift shelter in Tijuana made a run for the San Ysidro border crossing, after reportedly becoming fed up with conditions, and walked approximately half a mile in an attempt to confront US authorities with asylum requests. After police blocked a bridge, the migrants crossed the Tijuana River on foot to approach the port.
Tear gas was deployed to break up a protest by the Central American migrants massed in Tijuana.
A small group broke off and headed a few hundred feet (metres) away to a part of a canal between Tijuana and San Diego that led to the border fence.

At that point, before the group had reached the border, U.S. Customs and Border Protest officers who had gathered on the other side of the fence launched canisters of what a Reuters reporter said felt and smelled like pepper

Protesters were caught between the Mexican and U.S. authorities. A young woman fell to the ground unconscious, and two babies cried, tears streaming from the gas.  –Reuters
After the first round of tear gas, migrants once again approached the border and were met with a further volley of cannisters.
Additional Sources:
https://www.thegatewaypundit.com/2018/11/confirmed-us-border-patrol-agents-hit-with-projectiles-thrown-by-violent-honduran-migrants/
https://www.usatoday.com/story/news/world/2018/11/25/migrant-asylum-seekers-deal/2107726002/