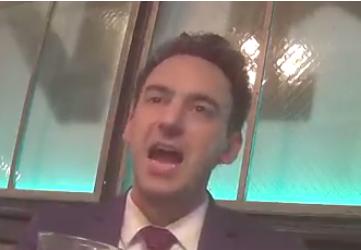 Project Veritas investigators infiltrated the US State Department and exposed left-wing activists using their jobs to pursue their agenda. Stuart Karaffa, a Management and Program Analyst with the Bureau of Overseas Buildings Operations, is a member of Democratic Socialists of America, and proudly admits that he engages in DSA activism on the job. He is part of the anti-Trump resistance movement and said his goal is to, "Resist everything." He joked that, even if he got caught, it is impossible to fire a federal employee. -GEG
James O'Keefe's Project Veritas launched its long-awaited investigative series into the "deep state" on Tuesday morning with a video of a State Department employee who boasts about organizing for the Democratic Socialists of America (DSA) during work.
Stuart Karaffa, who formerly worked on a data analytics program cut by the Trump administration, told Project Veritas journalists operating a hidden camera that he now filled his 8:30-to-5:00 days with work for the DSA, waiting until quitting time to send his DSA emails.
He said that theoretically he could be caught — "Maybe someday I'll go to Board of Elections jail" — probably not but joked that it would be impossible to fire a federal employee.