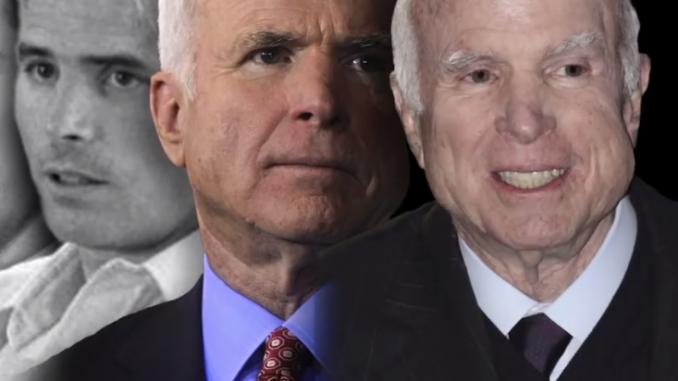 John McCain was born into a military family. His father and grandfather were Navy admirals, which was a great advantage for career security. That apparently came in handy when he graduated from Annapolis fifth from the bottom of his class, 894 out of 899, and when he crashed, damaged and lost a total of five
planes
. He was shot down in Vietnam and held captive for five and a-half years. Upon return to the United States, fellow prisoners testified that McCain had cooperated with their captors to gain favors. After he was elected to the Senate in 1998 on his image as a hero, he became a war hawk and consistently supported military intervention around the world. McCain cast the deciding vote that kept Obamacare in operation. He succumbed to brain cancer on August 25, 2018. -GEG
John McCain, the last great active American political figure of the 20th century, has lost his battle with cancer at age 81.
For both good and ill, McCain helped shape the purpose and application of Washington's considerable power for nearly half a century. Partly because of that mixed track record, his passing leaves as an open question what kind of future that McCain-style politics—with its robust, moralistic interventionism both at home but especially abroad—has in a political party and country that elected his rhetorical tormentor, Donald Trump.
Here is a list of countries that John McCain thought the United States should attack.