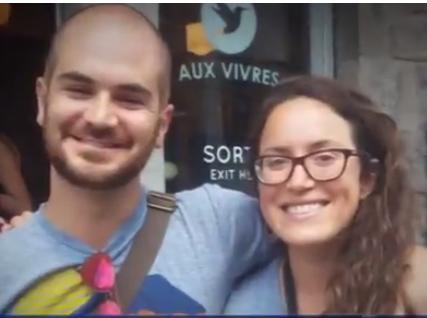 Two Millennials, Jay Austin and Lauren Geoghegan, were bored with life in Washington, DC, so they quit their jobs and spent the past year bicycling across Africa, Europe, and Central Asia, proclaiming the message of love and peace. Jay Austen refused to believe that people are evil or "axe murderers and monsters," but they were deliberately struck by a car and then stabbed to death by five men affiliated with ISIS as they rode through Tajikistan, which borders Afghanistan. Two Europeans also were murdered and three more injured in the attack. -GEG
Jay Austin and Lauren Geoghegan, both 29, quit their Washington, D.C., jobs a little over a year ago and embarked on a bicycle trip around the world. By April, their journey well underway, Austin wrote in the couple's blog, Simply Cycling, that they were embracing something beyond a mere great adventure.
"You watch the news and you read the papers and you're led to believe that the world is a big, scary place," he wrote. "People, the narrative goes, are not to be trusted. People are bad. People are evil. People are axe murderers and monsters and worse."
He continued:
I don't buy it. Evil is a make-believe concept we've invented to deal with the complexities of fellow humans holding values and beliefs and perspectives different than our own—it's easier to dismiss an opinion as abhorrent than strive to understand it. Badness exists, sure, but even that's quite rare. By and large, humans are kind. Self-interested sometimes, myopic sometimes, but kind. Generous and wonderful and kind. No greater revelation has come from our journey than this.
But in their very next blog entry, Austin described a driver in Spain trying to run him over amid a traffic jam.
It was a chilling portent of things to come.
Austin and Geoghegan were killed July 29 — just a few days into the second year of their journey — in what CBS News said was an ISIS-inspired attack as they rode through Tajikistan, which is predominantly Muslim and borders Afghanistan.
A car rammed into the couple and other bicycle tourists, after which five men exited the vehicle and attacked the group with knives, the network reported. Two others bicyclists — one from the Netherlands and one from Switzerland — also were killed.
The Islamic State initially claimed responsibility and then released a video showing the five purported attackers pledging allegiance to Islamic State leader Abu Bakr al-Baghdadi, CBS News added. In the clip they sat before the ISIS flag and vowed to kill "disbelievers," the New York Times said. Authorities told CBS News they tracked down the five suspects and killed four of them.
A friend of the couple, Molly Scalise, told CBS News that Austin and Geoghegan were "such an example of an intentional and a principled life and had so much love to give."
Embracing 'vulnerability'
As for why bicycles were the chosen form of transportation for their globe-hopping trip, Austin noted the "vulnerability" they brought.
"With that vulnerability comes immense generosity: good folks who will recognize your helplessness and recognize that you need assistance in one form or another and offer it in spades," he wrote, the Times said.
Austin, it appears, was driven by more than just putting his trust in others' goodness. When he quit his job prior to the bike trip, Austin wrote that he'd "grown tired of spending the best hours of my day in front of a glowing rectangle, of coloring the best years of my life in swaths of grey and beige. I've missed too many sunsets while my back was turned. Too many thunderstorms went unwatched, too many gentle breezes unnoticed," the paper reported.
He also was a vegan, built one of those tiny houses — 140 square feet — and lived a minimalist life, the Times said.