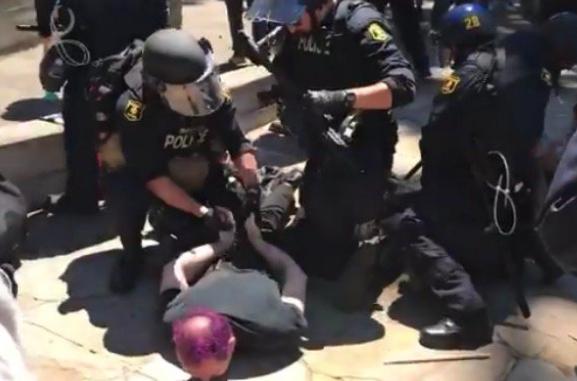 Three rallies to 'Refuse Marxism' were counter-protested by masked Antifa members.  Police cracked down on the radical leftists, but allowed their masks to remain, which is illegal in most states.  When Antifa is unmasked, they may be identified and held accountable for their crimes, so the level of violence is de-escalated.  Antifa physically attacked people at all three venues.
Berkeley, CA:
Berkeley: Anti-Marxist demonstrators were attacked by masked Antifa thugs and other far left protesters.  Masked Antifa terrorists used hammers to smash windows of a US Marine Corps recruiting office at Berkeley.  Police in riot gear wrestled Antifa members to the ground and made 20 arrests.
Portland, OR:
The Patriot Prayer rally in Portland on Saturday turned bloody after a black clad Antifa thug clubbed a conservative activist with what appears to be a flag.  Police shot projectiles and flash grenades to disperse Antifa.  A conservative man was reported to have been clubbed in the head by Antifa.
More on this story here,  here and here.
Providence, RI:
The rally in Providence, Rhode Island ended in violence and property damage after police failed to separate the pro-freedom 'Resist Marxism' demonstrators from far-left Antifa, who started a riot, beat people in the head, smashed equipment and shut the assembly down.  One man was reportedly struck in the head with a bike lock by an Antifa member.