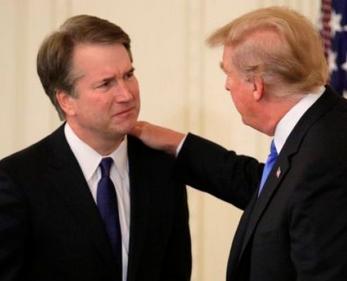 Brettt Kavanaugh, a 53 year old Catholic, has major ties to the swamp. He served as the staff secretary under George W. Bush, he led the investigation into the suspicious suicide of Bill Clinton's Deputy White House Counsel Vince Foster and assisted in Kenneth Starr's 1998 report outlining the case for Clinton's impeachment. Judge Napolitano says Kavanaugh is part of the swamp. Ann Coulter, author of Adios, America!, a book on immigration, favors Kavanaugh as the other candidates were pro-open borders.
Ann Coulter unloaded on Judge Raymond Kethledge, one of the judges President Donald Trump interviewed to potentially replace Justice Anthony Kennedy on the Supreme Court, on Twitter Wednesday.
"Hardiman & Kethledge are open borders zealots," the New York Times best-selling author and populist conservative columnist said in the most explosive of her tweets:
Later, when challenged on her assertion, Coulter expounded on how she reached her conclusion, citing several opinions in which Judge Kethledge favored expanding the legal options available to illegal aliens facing deportation:
In 2013's Patel, Kethledge wrote an opinion that expressly rejected the government's contention that an American immigration law's purpose is to protect American workers and benefit American businesses. "One can speculate that Congress meant to exclude certain aliens to protect American workers, and admit other, 'qualified' aliens to help American employers," Kethledge wrote. "But there is no basis in the text of the statute—none—to conclude that Congress was completely indifferent to the interests of the 'qualified immigrants' themselves."
In 2009's Nguyen, Kethledge joined an opinion by Jimmy Carter-appointee Gilbert Merritt holding that grand theft auto did not qualify as an "aggravated felony" mandating deportation.
The tweets followed one in which she chastised those on the right pushing for Kethledge, a judge on the U.S. Court of Appeals for the Sixth Circuit, as repeating the mistakes of the past that led to Republican administrations nominating judges, such as Justice David Souter, who became massive disappointments to conservatives:
The rebukes comes as right-leaning outlets like the Daily Caller report on a number of sources close to the selection process who are aggressively advocating picking Kethledge and citing a very positive interview with the president. Sources within the conservative legal community with whom Breitbart News discussed the matter expressed their own misgivings over Kethledge's judicial philosophy.
Coulter, a University of Michigan Law School grad, threw her weight behind Judge Brett Kavanaugh of the D.C. Circuit, comparing his record on immigration, the issue on which Coulter most closely focuses, to the other reported candidates. She also pointed to Kavanaugh's strength on the Second Amendment:
Kavanaugh wrote a widely-cited pro-gun rights dissent in the first major appellate Second Amendment case after the landmark 2009 District of Columbia v. Heller Supreme Court decision in which, much like Justice Antonin Scalia, he extensively relied on the original public meaning of the "right of the people to keep and bear arms."
Much of the coverage of Kavanaugh in the left-leaning media has focused on his connection to George W. Bush, in whose administration Kavanaugh served in the White House Counsel's Office and who appointed Kavanaugh to the federal bench. Coulter saw this as a campaign of manipulation on the media's part to turn Trump, who has had a sometimes contentious relationship with Bush administration veterans, against Kavanaugh:
Judge Amy Coney Barrett, who has emerged as a conservative favorite in the nomination process, was also featured in Coulter's analysis. Coulter did not explicitly attack Barrett, but explained her preference for Kavanugh by pointing to Barrett's relative lack of experience. Barrett has only been a judge for seven months and has never ruled on a wide variety of issues. Coulter saw her as a potential "blank slate" and warned against nominating anyone on the basis of being a woman: