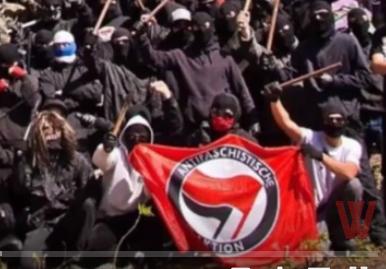 'It's Going Down,' an Antifa group, doxxed Judge Jeffrey Manning for giving bail to a police officer charged with criminal homicide after he shot and killed an unarmed black teen, Antwon Rose, who allegedly participated in a drive-by shooting.  A group of more than 30 Antifa members included intimidating masked militants.  After the police arrived, Antifa moved to a busy intersection and shut it down. 
While most Americans celebrated the Fourth of July, Antifa terrorists published the home address of a Pittsburgh judge and masked militants invaded his suburban neighborhood — refusing to leave even after police explained that they were frightening the local children.
The militant leftists have been targeting Judge Jeffrey Manning because they feel he gave a light bail to a Pittsburgh police officer who shot and killed a black teenager on June 19. The officer has been charged with criminal homicide and was released on a $250,000 unsecured bond.
The home address of Judge Manning was published on the popular Antifa website 'It's Going Down.'
According to an anonymous confession about the harassment published to the same website, approximately 35 people met in his cul-de-sac neighborhood on Independence Day "feeling empowered and ready to storm this ding dong's neighborhood. Folks silently marched single file in lines of two, some masked, some not; everyone with fists raised."
"The pigs showed up late to the party and everyone was pretty much on to the next thing by the time several squad cars arrived. Everyone got out just fine. The second part of the day's actions was to shut down the intersection at Connor and Gilkeson Road, a pretty big intersection for the amount of people who came out. This was right in front of a mall and a main route to various suburbanite July 4th parties, so that was tight. The small group shut shit down successfully with the help of a down ass semi driver who saw what was up and parked his rig in front of the exit route many cars were attempting to take. The cops were frazzled, a lot of fancy cars got fucked up hopping the median, and the intersection was held successfully for a good chunk of time in the 95 degree heat and direct sun," the confession continued.
One woman was reportedly so frazzled that she attempted to drive through the group of protesters. Police even pleaded with the protesters by explaining that they were scaring children that were stuck in the cars around them.