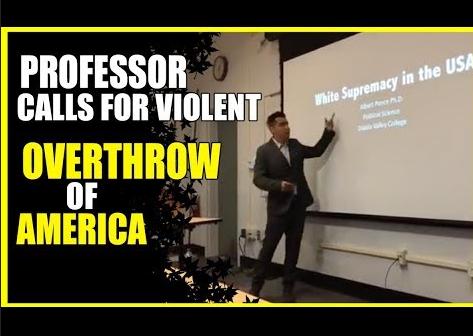 California: Professor Albert Ponce, a professor of political science at Diablo Valley College, the same place that employed philosophy professor, Eric Clanton, who hit a free- speech advocate over the head with a steel bike lock, was filmed giving a lecture advocating bringing down "white democracy" in America. The student who caught the lecture on video sent it to The Red Elephants who posted it on their new Facebook page, 'Film Your Marxist Professors', which alerts the public to communist propaganda that now is being taught to American youth. -GEG
Professor Albert Ponce, a professor of political science, was filmed giving the lecture. His words were uploaded to YouTube by a student who shared the video with The Red Elephants on the Facebook page "Film Your Marxist Professors."
Ponce also expresses why it is necessary to stop people like MILO from speaking at colleges and other public venues, while complaining about the lack of free speech given to communist professors like Drexel University's George Ciccariello, who infamously called for a "white genocide" on Twitter.
His Facebook page, which was shared by the student, shows his support for Black Lives Matter. He shared a link that denounced academic objectivity as a racialized issue used by racist white men to dismiss minorities and their perspectives, and has posted about "decolonizing" the academic fields of mathematics and physics, which he calls "oppressive."
According to a student who shared the video, Ponce grades students who disagree with his political views poorly.