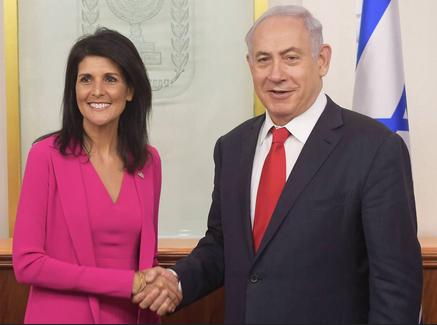 The UN General Assembly voted overwhelmingly to condemn
President ​Trump's recognition of Jerusalem as the capital of Israel and called on the US to withdraw 
the decision.  The vote was 128 countries rebuking Trump, with 35 countries abstaining, and only nine countries,
including ​Israel and the US, voting in favor of the new capital.  Nikki Haley, US ambassador to the UN,​ said she would note which countries opposed Israel and ​the US.  Trump threatened to cut off US foreign-​aid to the opposition. -GEG​
One day after Trump escalated his war of words with the UN,
threatening to cut off foreign financial aid over today's UN vote
on the president's decision to recognize Jerusalem the capital of Israel, the United Nations on Thursday delivered what has been dubbed a "
stunning rebuke
" of the US President's Jerusalem decision, voting overwhelmingly to condemn the move and calling on the U.S. to withdraw the decision.
The final vote was a landslide against Israel, with some 128 nations voting in favor of the resolution. Nine countries opposed the resolution while 35 abstained.
Only Israel, Honduras, Togo, U.S., Palau, Marshall Islands, Micronesia, Nauru, Guatemala voted against Jerusalem resolution. Two-thirds of UN member states including Germany, France, Italy, Netherlands, Belgium, Portugal, Switzerland, Sweden, Norway, Spain and Greece voted in favor of the resolution. Canada abstained.
While the resolution – a formal statement of a U.N. opinion – is not legally binding, it is represents a symbolic and diplomatic condemnation of Trump's decision and exerts political pressure on him to reverse the move… which Trump of course won't do.
As reported yesterday, in the runup to the General Assembly vote, Trump and US Ambassador to the UN, Nikki Haley, warned countries against opposing the Trump administration's Jerusalem decision. Haley went so far as sending a letter to members of the international body this week, warning that Trump had instructed her to take names, i.e., list the countries that voted in favor of the resolution. The president followed up on that warning on Wednesday, suggesting at a Cabinet meeting that the U.S. could cut off foreign aid for countries that opposed the U.S. in the vote.
"They take hundreds of millions of dollars and even billions of dollars, and then they vote against us," Trump said. "Well, we're watching those votes. Let them vote against us, we'll save a lot. We don't care."
The threat did little to stop the countries from voting to blast Trump's decision.