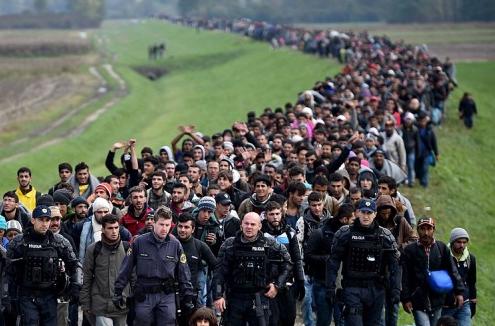 Dimitris Avramopoulos, the EU Commissioner for Migration, wrote an article entitled "Europe's Migrants Are Here to Stay" that
suggests that EU globalists have committed European countries to mass migration "for the long haul."  The EU claims that it is necessary for Europe's economy to continue importing people from poor third-world countries. However, people from non-European backgrounds living in Europe are much more likely to be unemployed or low wage earners​.  Avramopoulos 
failed to acknowledge that newcomers will need to be provided with education,
health care, shelter, food, and vocational training.  The goal of the globalists is to mix people from divergent cultures in order to destroy national identity and create internal conflict. This eliminates the once-proud and independent nation states and makes them easy to absorb into a global welfare and police state.  -GEG
Brussels has said that Europeans must accept mass migration from the third world as the "new norm", warning that neither walls nor policies will allow any part of the EU to remain "homogenous and migration-free".
"It's time to face the truth. We cannot and will never be able to stop migration," writes EU Commissioner for Migration Dimitris Avramopoulos, in a piece for POLITICO, published Monday entitled, "Europe's Migrants Are Here to Stay".
In it, the Eurocrat wrote "human mobility will increasingly define the 21st century", and that mass migration is an issue Brussels has committed Europe to "for the long haul", stating: "Migration is deeply intertwined with our policies on economics, trade, education and employment — to name just a few."
Pointing to migrants from the world's poorest countries who were granted refugee status in Europe, Avramopoulos made clear that Brussels sees asylum not as a way to offer temporary respite from war but instead as another method of permanently transplanting third world populations into EU nations.
 "They have found safety in Europe, but we also need to make sure they find a home," he writes of refugees, going on to insist that programming Europeans to welcome mass migration is "not only a moral imperative", but "also an economic and social imperative for our aging continent — and one of the biggest challenges for the near future".
To this end, the Commission is working to "enhance legal channels for economic migration with a more ambitious Blue Card for highly skilled workers and kick-start targeted labour migration pilot projects in key third countries", he notes.
Whilst Brussels claims that the Blue Card will bring "highly-skilled workers" to Europe, Breitbart London reported last year that revisions to the scheme clearly contradict this, stating that it would be necessary to provide newcomers with education, employment, and vocational training.