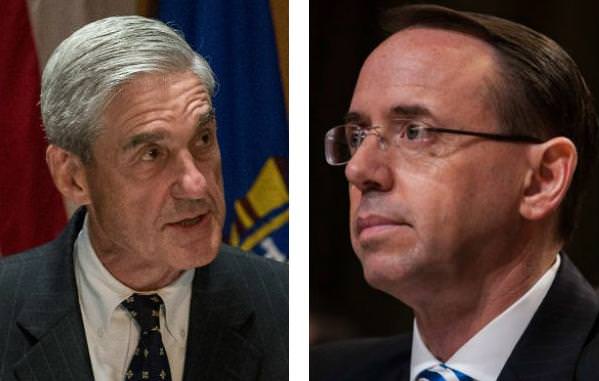 Attorney, Gregg Jarrett, says that Special Counsel Robert Mueller and Deputy Attorney General Rod Rosenstein must be fired or resign from the Trump – Russia collusion case because they are complicit in approving the Uranium One deal that gave 20% of US uranium to Russia.
WikiLeaks' State Department top secret cables from 2009 prove that Hillary knew the Russians were trying to corner the world uranium market, yet she endorsed the Uranium One deal. FBI records show that, just prior to the approval, tens of millions of dollars came into the Clinton Foundation from the Russian nuclear industry. Racketeering is defined as using a business as a criminal enterprise. By definition, therefore, the Clintons are guilty of racketeering – and also compromising America's security. -GEG
Russian collusion with the Trump administration having themselves been complicit in Russian collusion by approving the sale of 20% of US uranium reserves to Russia.
Mueller and Rosenstein were on the CFIUS committee that approved the sale despite knowing that, as The Hill reported, "Russian nuclear officials were engaged in a racketeering scheme involving bribes, kickbacks and money laundering," that also ensnared the Clinton Foundation.
Hillary was also on the committee that rubber stamped the deal while her husband was receiving huge speaking fees from Russian officials as millions in "charitable donations" poured into the coffers of the Clinton Foundation from Russia.
Asked by Hannity how the likes of Rosenstein and Mueller could now be judging the Trump administration over Russian collusion having themselves been complicit in Russian collusion, Jarrett was unequivocal.
"They've got to be fired or they have to resign," he responded, adding, "It totally compromises their integrity, I don't see any other way out."
"Rosenstein hid this information when he knew it….hiding this information, not disclosing it to Congress, when they had a legal obligation to do so seems to me to be unconscionable and they have no more integrity associate now with their Trump collusion case," said Jarrett.
The Senate Judiciary Committee has now launched a full scale investigation into the bribery scandal, although as The Hill columnist Joe Concha points out, the bombshell story is being ignored by the media.
"This important & explosive story from Solomon and Spann of The Hill received exactly zero seconds of airtime on the evening newscasts," he tweeted.