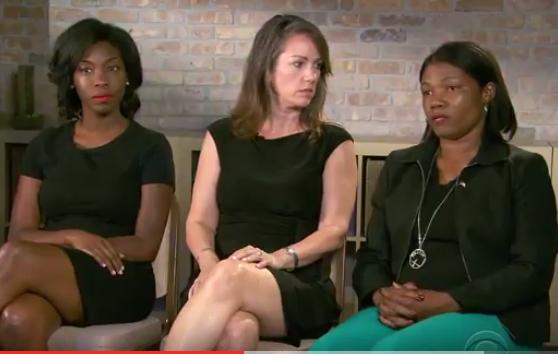 CBS interviewed three women (one white and two black) who support Donald Trump and who believe the media is causing racial discord. They blamed Obama for aggravating racial tension over the past eight years by pursuing identity politics. –GEG
ATLANTA — With the president under fire for remarks about Charlottesville, CBS News checked in with some Republicans who voted for him. Janelle Jones, Ellen Diehl and Lucretia Hughes say their support for President Trump has not lessened.
"I don't look at him as my pastor or my moral leader," said Jones. "I look at him as the leader as it relates to governmental issues."
"We are not looking for somebody charming," Diehl said. "We are looking for a man who knows how to turn things around and he's got a track record of turning things around."
When she saw the violence in Charlottesville, Diehl said, for her, "it wasn't necessarily a complete black-white issue. But I think the media is turning it into a black-white issue. It's definitely a left-right issue. But its left fringe and right fringe."
As for the Confederate monuments, Hughes said they are "history."
"I wasn't born back then you wasn't either," Hughes said. "So why is that affecting us? If anything we should grow and learn from it.  Just like Martin Luther King said, you don't judge people by the color of their skin. You base that on their character."
As for the criticisms Mr. Trump has faced about his reaction to racial tension, Hughes and Jones said that does not change their support.
"I think for myself. Period," Hughes said. "Nobody is going to tell me what to think or how to think. I am not gullible and I am not blind. It's my decision if I am going to support someone or not. Not go by what other people has to say and to me what I have seen and what I love, he is not going to lose my support any time soon."