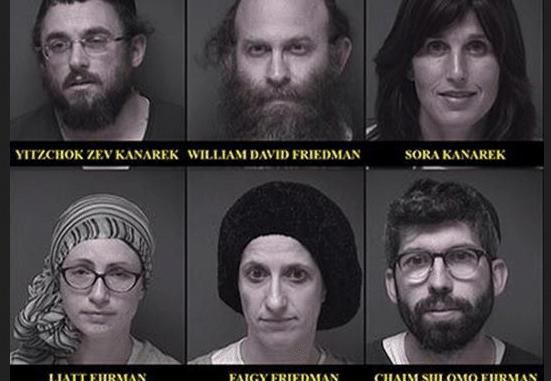 New Jersey: More than a dozen Orthodox Jews, including rabbis, have been arrested for multi-million-dollar schemes to defraud Medicaid, nutrition assistance, Social Security, and federal housing funds.  They are accused of under reporting their incomes to collect public-assistance benefits to which they were not entitled, and some are are charged with conspiracy to steal government funds.  Duvi Honig, the CEO of the Lakewood-based Orthodox Jewish Chamber of Commerce, said that people are tempted to take more welfare than they need because the cost of private school is unsustainable.  The investigation began in 2009 and is said to be the tip of the iceberg. –GEG
LAKEWOOD, N.J. — Nearly 15 people have been arrested in raids over two days in a New Jersey community in connection with an ongoing investigation that has so far exposed about $2 million in alleged public-assistance fraud in the town.
Six people were arrested Tuesday night in Lakewood, N.J., a community of about 101,000, nearly 38 miles southeast of Trenton, the state capital. The arrests follow the federal and state raids of four homes and arrests of eight people Monday on charges of stealing $1.3 million in public assistance over the last few years.
Lakewood is the fastest-growing town in New Jersey and surpassed 100,000 residents earlier this year, according to the Census Bureau. In the town, 32% of people live in poverty, Census figures show. Lakewood's rapid population growth is fueled by a flourishing Orthodox Jewish community.
Each of the six people arrested Tuesday is facing a charge of second-degree theft by deception, a state crime, according to a prepared statement from the Ocean County Prosecutor's Office.
The six people are accused of defrauding the government of just more than $670,000, according to the prosecutor's office.
Arrested Tuesday were: Yitzchok and Sora Kanarek; Chaim and Liatt Ehrman; and William and Faigy Friedman.
The Kanareks wrongfully collected $339,002.56 in Medicaid, nutrition assistance, Social Security and federal housing funds, according to the prosecutor's office. The Ehrmans brought in $185,692.22 in improper Medicaid, nutrition assistance, utilities assistance and Sandy relief funds and the Friedmans bilked $149,842.28 in Medicaid, food, energy and housing funds, according to the prosecutor's office.
Yitzchok Kanarek is the former rabbi of Oros Yisroel, a school for special-needs students that closed in 2015 because of federal and state tax liens of more than $295,000, according to public records.