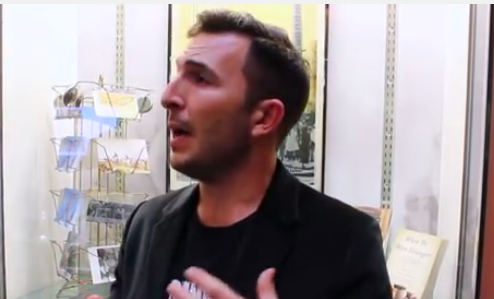 Justin Gest, a professor at George Mason University, says that white, working class communities that have been hit hard economically must now be "wheeled into political hospice care" to make their death comfortable.  Gest advocates displacing whites with immigration and cheap labor.  In an interview by Jonathan Capehart at the Washington Post, Gest called for the death of white people, and Capehart commended him on his views. –GEG
A pro-immigration advocate says the hard-hit mostly white working-class communities in the United States must be wheeled into "political hospice care," and a Washington Post columnist commended his solution "as a way forward."
"Economic dislocation and demographic changes are fueling discomfort and desperation among white working-class voters," wrote WashPo columnist and editorial board member Jonathan Capehart, continuing:
While [university professor and author] Justin Gest says that both Republicans and Democrats have exploited these voters, he sees a way forward.

"The only way of addressing their plight is a form of political hospice care," [Gest] said. "These are communities that are on the paths to death. And the question is: How can we make that as comfortable as possible?"
Capehart declined to answer questions from Breitbart about his statement that "hospice care" for mostly white working-class communities is "a way forward" for the nation. He declined to suggest alternative policies or to suggest which of the progressives' political goals could be traded to win support for white working-class voters in 2020.
The offer of political elimination to working-class communities has prompted anger even from some left-wing writers, such as Martin Longman at The Washington Monthly.
I'm not saying the whole Democratic Party feels this way, but the default position among a lot of progressives since the election has been that to even talk about these folks is to pander to their racism and dilute the party's commitment to civil rights, women's rights, gay rights, and the environment. If we want to draw up our battle lines like that, then they sure as s*** are going to take the hint…

I don't recognize a [political] left that has no better solution for struggling people than to make their inevitable deaths more comfortable. That's not just a political loser. It's an indefensible position to take as human beings. Every single community needs a left that will represent them and that doesn't mean it will tolerate them or give them just enough to ease the worst of their pain.
Gest responded to Breitbart's questions by doubling down, saying immigrants can replace American consumers, workers, and children, and also that expert advice will soothe American communities during their government-managed exit:
Declining towns need immigrants to reinvigorate their markets, take on unwanted labor positions, and add youth to aging demographies. Once these communities understood the benefits immigrants bring and were consulted about the terms of their integration, they would feel more comfortable with their arrival.