Biotech giant, Monsanto, is accused of hiring, through third parties, an 'army' of Internet trolls to counter negative online comments, while citing positive 'ghost-written' pseudo-scientific reports that downplay the risks of GMO foods and Roundup Ready pesticide. In San Francisco, fifty lawsuits have been filed against Monsanto. –GEG
Biotech giant Monsanto is being accused of hiring, through third parties, an army of Internet trolls to counter negative comments, while citing positive "ghost-written" pseudo-scientific reports which downplay the potential risks of their products.
The documents emerged during pre-trials on 50 lawsuits against Monsanto which were pending in the US District Court in San Francisco. The plaintiffs allege that exposure to the biotech giant's flagship product, the herbicide Roundup, caused them or their relatives to develop non-Hodgkin lymphoma, while Monsanto concealed the potential risks.
In March, a judge ruled, despite Monsanto's objections, that the documents obtained by the plaintiffs could be released. The court papers are being gathered at the website of food-safety whistleblower organization US Right to Know.
Read more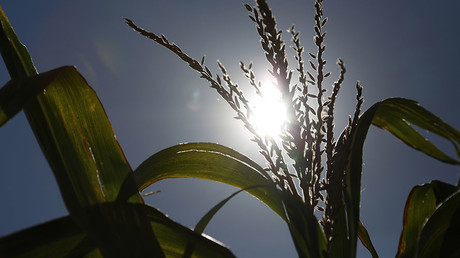 Monsanto sees almost 30% profit jump
The plaintiffs alleged that Monsanto targeted all online materials and even social media comments that indicate potential dangers of its products, according to one document released late in April.
"Monsanto even started the aptly-named 'Let Nothing Go' program to leave nothing, not even Facebook comments, unanswered; through a series of third parties, it employs individuals who appear to have no connection to the industry, who in turn post positive comments on news articles and Facebook posts, defending Monsanto, its chemicals, and GMOs," the document reads.
On a larger scale, Monsanto allegedly "quietly funnels money to 'think tanks' such as the 'Genetic Literacy Project' and the 'American Council on Science and Health"– organizations intended to shame scientists and highlight information helpful to Monsanto and other chemical producers," according to the plaintiffs.
The accusations are backed by a batch of emails, used in court as evidence, which were written by some Monsanto executives, instructing the staff to "ghost-write" articles and then have some "independent scientists" just sign their names under the "study" in order to reduce costs.
"A less expensive/more palatable approach might be to involve experts only for the areas of contention, epidemiology and possibly MOA (depending on what comes out of the IARC meeting), and we ghost-write the Exposure Tox & Genetox sections," the letter's excerpt reads. "An option would be to add Greim and Kier or Kirkland to have their names on the publication, but we would be keeping the cost down by us doing the writing and they would just edit & sign their names so to speak. Recall that is how we handled Williams Kroes & Munro, 2000."
Monsanto, however, dismissed such allegations, claiming that the plaintiffs' attorneys took a "single comment in a single email out of context." The new accusations appear to be better-founded than earlier ones, which were largely based on the words of one of Monsanto's top executives, Dr. William Moar, who reportedly said at a conference in January 2015 that the company had an "an entire department," dedicated to "debunking" science which disagreed with the agrochemical giant's own research.
One of Monsanto's most well-known attempts to silence "bad" science was related to a report issued by the World Health Organization's (WHO) International Agency for Research on Cancer (IARC) in March 2015. Monsanto promptly labelled the report as "biased," and demanded it be retracted. The report said Roundup's key ingredient glyphosate was "probably carcinogenic."
"We question the quality of the assessment," Monsanto's vice president of global regulatory affairs, Philip Miller, said. "The WHO has something to explain."