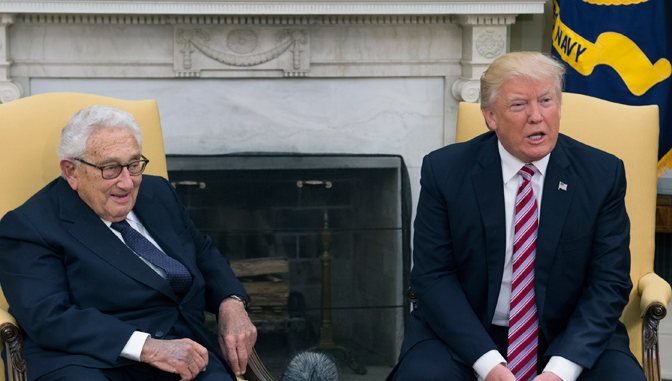 On the same day that President Trump met with Russia's foreign minister at the White House, he also met with Henry Kissinger, who he describes as a long-time friend. Kissinger is a senior member of the Council on Foreign Relations and is considered to be the principle liaison with the Rockefellers. –GEG
The same day President Donald Trump was meeting with Russia's foreign minister at the White House — and less than a day after firing former FBI director James Comey — the press pool captured Trump posing in the Oval Office with Henry Kissinger.
According to the pool report, journalists had expected to find Russian Foreign Minister Sergey Lavrov at the president's side, but instead was invited to an unannounced meeting with Kissinger, who served as secretary of state under Richard Nixon.
Trump said he had met with Kissinger to talk "about Russia and various other matters."
When asked why he fired Comey, Trump said, "He wasn't doing a good job. Very simply. He was not doing a good job." This was the president's first in-person response regarding his decision. He had tweeted initial thoughts Tuesday night and Wednesday morning.
The president was then asked whether the firing affected today's meeting with Russian officials.
"Not at all," he said.
Trump added that Kissinger has "been a friend of mine for a long time." Shortly after winning the 2016 presidential election, Trump met Kissinger in New York to discuss "events and issues around the world."