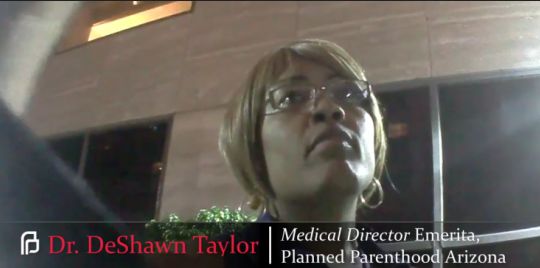 California prosecutors charged David Daleiden and Sandra Merritt with 15 felonies for filming without consent after they made undercover videos of themselves trying to buy fetal tissue from Planned Parenthood. The pair had previously been indicted in Texas on similar charges, but the charges were dropped.  David Daleiden's Center for Medical Progress recently released a video featuring Dr. DeShawn Taylor, a former Planned Parenthood abortionist, saying she performs elective abortions as late as 24 weeks into a pregnancy. -GEG
A new video released by Center for Medical Progress (CMP) reveals a former Planned Parenthood abortionist allegedly discussing how she performs elective abortions on healthy unborn babies up to 24 weeks of pregnancy, and the situation she encounters if a baby is aborted showing some signs of life.
Dr. DeShawn Taylor was a longtime abortion provider at Planned Parenthood Los Angeles and was previously a medical director at Planned Parenthood of Arizona. Taylor is introduced to the CMP undercover journalists in the video by Dr. Deborah Nucatola, the Planned Parenthood chief medical officer who was heard in the now famous initial CMP video in which she was allegedly heard discussing the sale of aborted baby body parts while eating a salad and drinking wine at lunch.
In the latest CMP video, Taylor is heard explaining to the journalists that Nucatola trained her.
During a reception at a Planned Parenthood conference, Taylor describes to CMP's undercover journalists–posing as buyers from a biomedical company–how she delivers intact fetuses during late-term abortions. In the video, a CMP journalist indicates that intact bodies will allow for the harvesting of organs and body parts that are more valuable for scientific research.
At one point in the footage, the abortionist explains the difficulties abortionists encounter when a baby comes through the procedure with signs of life: "In Arizona, if the fetus comes out with any signs of life, we're supposed to transport it. To the hospital."
When asked if there is "any standard procedure for verifying signs of life?" Taylor responds by saying, "The key is, you need to pay attention to who's in the room, right?"
Taylor chuckles and says, "It's a mess. It's a mess."