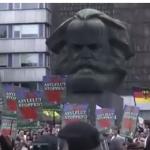 East Germans in Former Communist City Protest Mass Immigration After the Stabbing of a German Man
Two thousand Germans, labeled as "far-right" protesters and "Nazis", demonstrated against terrorism and migrant crime following the arrest of a Syrian man and an Iraqi man who are accused of stabbing a 35-year old German carpenter to death on Sunday.  The government condemned the Germans while hundreds of leftists showed up to counter-protest the German citizens who oppose migrant crime.  The protests are being held in Chemnitz, which used to be a part of communist East Germany when the city was called "
Karl-Marx-Stadt", which is the scene of the murder.  Some protesters were heard chanting "We Are the People!" which is the same chant used by anti-communist people during the communist era.  German society is divided over Merkel's admission of a million migrants in 2015.
Over 1,000 right-wing supporters spontaneously gathered in Chemnitz city centre on Monday following the fatal stabbing of a man, allegedly by migrants, with some attacking foreigners and yelling anti-migrant slogans.
The demonstration, which was largely organised by local football hooligan group Kaotic, came in reaction to a brutal stabbing of a 35-year-old local named Daniel who was attacked on Sunday while attending a street festival, Die Welt reports.
Police are still investigating the motive behind the attack which also saw two other Germans seriously injured, with two arrests, a 23-year-old Syrian migrant and a 22-year-old Iraqi, announced on Monday.
Following the attack, the anti-mass migration Alternative for Germany (AfD) organised a peaceful demonstration of around 100 people that saw no incidents of violence. AfD MP Markus Frohnmaier commented on the stabbing on Twitter writing: "If the state can no longer protect the citizens, people go to the streets and protect themselves."
"Today it is the citizens' duty to stop the death-bringing 'knife migration'! It could have been your father, son or brother!" he added.
1000 Rechtsextreme marschieren in Chemnitz auf. Laut Beobachtern Übergriffe auf Migranten. Polizei überrumpelt. #c2608 pic.twitter.com/LuxcEV5onD

— Fabian Eberhard (@FabianEberhard) August 26, 2018
Shortly after the initial protest, the football hooligan group Kaotic organised their own demonstration which allegedly saw foreigners targetted with bottles by members of the protest.