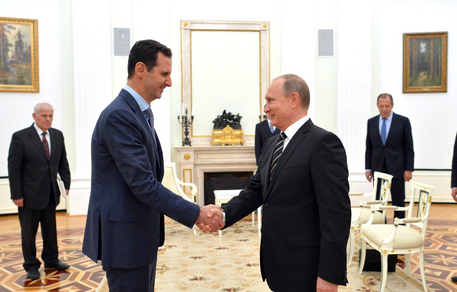 Idlib, Syria: Media outlets, backed by the US, UK, and EU, are claiming that Syrian and Russian Air forces launched a chemical airstrike, killing civilians, just ahead of the Brussels peace talks.  The BBC admits that the source of the projectile was not clear. Trump is being asked to create safe zones in Syria that would partition the country, while neocons are calling for no-fly zones and Assad's ouster. –GEG
Reviving the 'Chemical Weapons' Lie: New US-UK Calls for Regime Change, Military Attack Against Syria
Here it comes again. As the enemies of peace continue to pressure a new US President into deeper war commitments overseas, and as Washington's Deep State work relentlessly opposing Russian moves in Syria at every turn, the war drums have started again – beating harder than ever now, clamouring for a new US-led attack on Syria. This morning we saw a familiar theme emerge, and just in time to provide a convenient backdrop to this week's Brussels 'Peace Talks' and conference on "Syria's Future".
The US-led 'Coalition' prepares to make its end-run into Syria to 'Retake Raqqa,' and impose its Safe Zones in order to partition Syria, more media demonization of Syrian government appears to be needed by the West.
On cue, the multi-billion dollar US and UK media machines have sprung into overdrive this morning over reports based primarily from their own 'activist' media outlets, like Aleppo Media Center and others embedded in the Al Nusra-dominated terrorist stronghold of Idlib, Syria, alongside their media counterpart the UK-based Syrian Observatory for Human Rights (SOHR) who are funded by the UK and EU, are all now claiming that the Syrian and Russian Airforces have launched a chemical weapons airstrike killing civilians in Idlib.
In their report today entitled, "Syria conflict: 'Chemical attack' in Idlib kills 58", the BBC are also alleging in their report that Sarin gas was used.
The alleged "chemical airstrikes" are said to have taken place in the town of Khan Sheikhoun, about 50km south of the city of Idlib.
Predictably, the BBC and other similar reports by CNN, have triggered a wave of 'consensus condemnation' and indignation by the usual voices, the UN's Staffan de Mistura, Francois Hollande, and of course UK Foreign Secretary Boris Johnson, who said that President Bashar al-Assad 'would be guilty of a war crime' if it somehow be proven that his 'regime' was responsible"
"Bombing your own civilians with chemical weapons is unquestionably a war crime and they must be held to account," he said (reported by BBC). 
But is the mainstream media's version of events what actually happened?
The BBC claim in their article that, "Opposition activists said Syrian government or Russian warplanes carried out the strikes."  This claim should be checked against any Russian air sorties scheduled for the same period. As of this morning, Russia's defence ministry has stated that it had not carried out any air strikes the area.
The problem here is that the BBC and others are not only taking 'opposition activists' reports of a chemical attack at face value, they also elevating claims that the Syrian and Russian airforces were then later hitting the medical clinics who were treating the survivors:
"Later, aircraft fired rockets at local clinics treating survivors, medics and activists said."
Expectedly, as with past claims of "chemical attacks," the notorious US-UK funded 'NGO', the White Helmets have already played a central role in scripting the narrative for this latest chemical attack.
As with so many other previous reports on Syria, the BBC, CNN and AP's reporting rely exclusively on "opposition activists" and "opposition media agencies," including the 'pro-opposition' Step News agency', the Edlib Media Center (EMC), and 'opposition journalists' like photographer Hussein Kayal, as well as an unnamed "AFP news agency journalist".
The unnamed "AFP journalist" is particularly interesting, as it seems to be the source of a key portion of the BBC's version of events:
"An AFP news agency journalist saw a young girl, a woman and two elderly people dead at a hospital, all with foam still visible around their mouths."
The journalist also reported that the same facility was hit by a rocket on Tuesday afternoon, bringing down rubble on top of doctors treating the injured."
However, as you read further down the BBC report, the story gets less certain, as the story become very loose:
"The source of the projectile was not clear, but the EMC and the opposition Local Co-ordination Committees (LCC) network said warplanes had targeted several clinics."
After their source the SOHR refused to say which "chemical" was supposedly dropped, the BBC quickly move in to fill in the blanks by framing the story that the Syrian-Russian Airforces had launched a "Sarin Attack".
"The SOHR said it was unable to say what exactly was dropped. However, the EMC and LCC said it was believed to be the nerve agent Sarin, which is highly toxic and considered 20 times as deadly as cyanide."
At no point in their reporting do the BBC ever express any skepticism that maybe their 'activist' sources could be providing false or misleading information. Ultimately, these reports can be used to trigger renewed calls by Western officials for Military strikes against the 'Syrian Regime' – which was exactly what happened today after these news stories were circulate. Within a few hours after these reports circulated, Congressman Adam Kinzinger (R, Illinois) came on CNN with Wolf Blitzer who asks Kinzinger point blank: What can be done to remove this regime? Kinzinger then replied by calling outright for US airstrikes to "Take out the Assad Regime in Syria", including "cratering their airstrips so planes can take off" and creating a "No Fly Zone" over Syria.