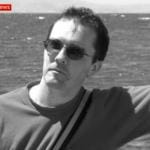 France: 13-Year-Old Girl's Story about Her Teacher that Led to his Murder Was a Lie
France: A 13-year old Muslim schoolgirl, known as Z, lied to her father when she said her history teacher, Samuel Paty, during a lecture on free speech compared to blashemy, showed cartoon drawings of a naked Mohammed to the class. When this story circulated on social networks, it led to outrage within the Muslim community. Ten days later, the teacher was beheaded by an 18-year old Muslim Chechen refugee. The girl's story was that Muslim students were told to leave the room while the drawings were displayed, and that she was suspended from school when she objected to the naked drawings. Z stuck to her story until classmates told police that Z was not present in Paty's class on the day that he showed the caricatures of a clothed Mohammed and that she was suspended because of her habitual absence from class. -GEG
Like many a school truant, the 13-year-old girl was keen to prevent her father from discovering she had been suspended because of repeatedly failing to turn up for lessons.
So she made up a story. The teenager said her history teacher, Samuel Paty, had instructed Muslim students to leave the classroom so he could show the rest "a photograph of the Prophet naked".
It must have seemed a harmless enough lie, but it sparked a chain of events that led to unimaginable horror.
Ten days later, the teacher was dead – decapitated by a Islamist terrorist. Paty's family were left devastated, France traumatised and the girl and her father facing criminal charges. Two other teenagers, who took money from the assassin, Abdullakh Anzorov, are also under investigation.
On Sunday, Le Parisien revealed that the girl, known only as Z, had admitted that she had wrongly accused Paty. The paper said she confessed to the investigating anti-terrorist judge that she had lied, and that she was not even in the class where Paty showed pupils controversial caricatures from the satirical newspaper Charlie Hebdo.
The newspaper said the girl had lied because she wanted to please her father.
"She would not have dared to confess to her father the real reasons for her exclusion shortly before the tragedy, which was in fact linked to her bad behaviour," Le Parisien reported.
Additional source:   https://www.timesofisrael.com/schoolgirl-admits-to-lying-about-beheaded-french-teacher/