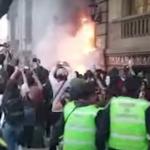 Pro-Abortion Mob Attempts to Burn Down Catholic Church In Mexico City and Demands an End to the Country's Ban on Abortion

A group of masked pro-abortion feminists rioted in the streets of Mexico City and attempted to burn down a Catholic cathedral and a government building on Saturday in protest against the country's ban against abortion. Mexico City and Oaxaca already do permit abortion. Some of the masked marchers destroyed shelters at bus stops, spray painted slogans on public and private property, and attacked police officers, journalists, and bystanders. The police used a largely female contingent that, for the most part, stood down while the feminists wreaked havoc. -GEG
A pro-abortion feminist mob rioted in the streets and attempted to burn down a Catholic cathedral and a government building on Saturday in Mexico City as part of a protest demanding legalized abortion.
Video showed masked antifa lunatics destroying public property and acting worse than wild animals: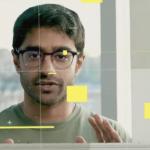 AOC's Chief of Staff, Saikat Chakrabarti, Has Come under Investigation for Possible Illegal Handling of more than $1-million in Campaign Donations – And He Has Resigned
Saikat Chakrabarti, the mastermind behind Alexandria Ocasio-Cortez's campaign and proposed Green New Deal, resigned as her chief of staff last week at the same time as coming under federal investigation. Two PACs are being probed, Brand New Congress and Justice Democrats, both set up by Chakrabarti to support Marxist candidates across the country. More than $1-million in political donations was funneled into two private companies that Chakrabarti also incorporated and controlled. Both companies had similar names to the PACs. While PACs must follow stringent federal rules on disclosure of spending and fundraising, private companies are not subject to the same transparency. The $5,000 limit on contributions from PACs to candidates may have been violated. -GEG
The feds are looking into possible campaign finance misdeeds by Rep.
Alexandria Ocasio-Cortez's chief of staff and lead rainmaker, who
suddenly resigned Friday, federal sources told The Post.
The inquiry centers on two political action committees founded by
Saikat Chakrabarti, the top aide who quit along with Ocasio-Cortez
spokesman Corbin Trent, the sources said. Trent left to join the
congresswoman's 2020 re-election campaign.
The brash Chakrabarti, who masterminded Ocasio-Cortez's campaign and
steered her proposed Green New Deal, had caused uproar in the halls of
Congress with a series of combative tweets that contributed to a rift between his rookie boss and House Speaker Nancy Pelosi.
"People were not happy that he used his Twitter account to comment
about members and the bills that he and his boss oppose," a senior House
Democratic staffer said. "There was a series of colliding and cascading
grievances."
The two PACs being probed, Brand New Congress and Justice Democrats,
were both set up by Chakrabarti to support progressive candidates across
the country.
But they funneled more than $1 million
in political donations into two private companies that Chakrabarti also
incorporated and controlled, according to Federal Election Commission
filings and a complaint filed in March with the regulatory agency.
In 2016 and 2017, the PACs raised about $3.3 million, mostly from
small donors. A third of the cash was transferred to two private
companies whose names are similar to one of the PACs — Brand New
Congress LLC and Brand New Campaign LLC — federal campaign filings show.
---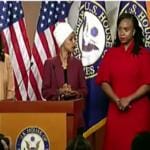 Trump Rage-Tweets "Radical Left Democrats" – "If You're Not Happy Here, Leave!"
President Trump rage-tweeted against radical Democrat women in Congress, telling them to leave if they are not happy in America. He accused them of wanting open borders and wrote that migrant detention centers are not "concentration camps."He quoted with scorn Ilhan Omar's comment that on the 9/11 attack, '"Some people did something." He seemed to target Alexandria Ocasio-Cortez, Ayanna Pressley, and Rashida Tlaib, in addition to Omar when he commented that the US will never be a socialist or communist country. The four freshman Congresswomen responded by holding a press conference over the tweets and called Trump a 'racist.' -GEG
Much like the great majority of Americans (judging by the latest polls), President Trump appears to have had enough with the "Radical Left Democrats" constant spewing of seemingly anti-American sentiment.
In a triple-down on his sentiment over the weekend (and statement
this morning), the president has just rage-tweeted the same message: "If you are not happy here, you can leave," but that was far from all he said…
"We will never be a Socialist or Communist Country," he began, adding that "certain people HATE our Country… They are anti-Israel, pro Al-Qaeda, and comment on the 9/11 attack, 'some people did something'," seemingly focusing in on AOC and her squad.
"Radical Left Democrats want Open Borders, which means drugs, crime, human trafficking, and much more…" he raged, concluding his brief tweetstorm with a reminder of his achievements and to "Keep America Great."
Additional source:
https://www.thegatewaypundit.com/2019/07/just-in-pelosi-announces-house-resolution-to-condemn-trumps-racist-xenophobic-tweets/
---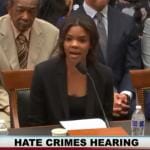 Candace Owens Says 'White Nationalism' is A Political Slogan to Scare Minorities into Supporting Democrat Party
Candace Owens, a black conservative activist, derailed Jerry Nadler's House Judiciary hearing on 'Hate Crimes and White Nationalism' by calling out the hype around 'white nationalism', which she says is used to scare minorities into supporting the Democratic Party. She stated, "Democrats have been conning minorities into the belief that we are perpetual victims, all but ensuring our failure. Racial division and class warfare are central to the Democrat Party platform. They need Blacks to hate whites, rich to hate poor. Soon enough, it will be the tall hating the short." -GEG
Conservative activist Candace Owens derailed Jerry Nadler's House Judiciary Committee hearing on "Hate Crimes and White Nationalism" by calling it out as a farce to scare minorities into supporting censorship and the Democratic Party.
Rush transcript via Real Clear Politics:
CANDACE OWENS, TURNING POINT USA: Mr. Chairman, Ranking
Member Mr. Collins thank you for having me here today. I received word
on my way in that many of the journalist were confused as to why I was
invited and none of them knew that I am myself was a victim of a hate
crime when I was in high school. That is something that very few people
know about me because the media and the journalists on the left are not
interested in telling the truth about me because I don't fit the
stereotype of what they like to see in black people. I am a Democrat. I
support the President of the United States and I advocate for things
that are actually affecting the black community.

I am honored to be here today in front of you all because the person
sitting behind me is my 75-year-old grandfather. I have always
considered myself to be my grandfather's child and I mean to say that my
sense of humor, my passion and my work ethic all comes from the man
that is sitting behind me.

My grandfather grew up on a sharecropping farm in the segregated South.
He grew up in an America where words like racism and white nationalism
held real meaning under the Democratic Party's Jim Crow laws. My
grandfather's first job was given to him at the age of five years old
and his job was to lay tobacco out to dry in an addict in the South. My
grandfather has picked cotton and he has also had experiences with the
Democrat terrorist organization of that time, the Ku Klux Klan. They
would regularly visit his home and they would shoot bullets into it.
They had an issue with his father, my great-grandfather.

During my formative years I have the privilege of growing up in my
grandfather's home. It is going to shock the committee but not once, not
in a single breath of a conversation did my grandfather and tell me
that I could not do something because of my skin color. Not once did my
grandfather hold a gripe against the white man. I was simply never
taught to view myself as a victim because of my heritage. I–I learned
about faith in God, family and hard work. Those were the only lessons of
my childhood.

There isn't a single adult today that in good conscience would make the
argument that America is a more racist, more white nationalist society
than it was when my grandfather was growing up and yet we are hearing
these terms center around today because what they want to say is that
brown people need to be scared which seems to be the narrative that we
hear every four years right ahead of a presidential election.

Here are some things we never hear. 75 percent of the black boys in
California don't meet state reading standards. In inner cities like
Baltimore within five high schools and one middle school not a single
student was found to be proficient in math or reading in 2016. The
singlehood–these single motherhood rate in the black community which is
at 23 percent in the 1960s when my grandfather was coming out is at a
staggering 74 percent today. I am guessing there will be no committee
hearings about that. There are more black babies born–there are more
black babies aborted than born alive in cities like New York and you
have Democrat governor Andrew Cuomo lighting of buildings to celebrate
late-term abortions. I could go on and on. My point is that white
nationalist–white nationalism does not do any of those things that I
just brought up. Democrat policies did. Let me be clear the hearing
today is not about white nationalism or hate crimes, it is about fear
mongering, power and control. It is a preview of a Democrat 20/20
election strategy the same as the Democrat 2016 election strategy. They
blame Facebook. They blame Google. They blame Twitter. Really, they
blame the birth of social media which has disrupted their monopoly on
minds. They called this hearing because they believe that if it wasn't
for social media voices like mine would never exist, that my movement
Blexit which is inspiring lack of Americans to lead–to leave the
Democrat party would have never come about and they certainly believe
that Donald Trump would not be in office today.
---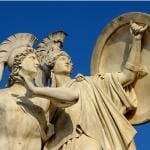 Kansas University Offers Course on 'Angry White Males'
The University of Kansas is offering a humanities course titled 'Angry White Male Studies' that explores "the deeper sources of this emotional state while evaluating recent manifestations of male anger" in Europe and America from 1950 to present. This article lists additional examples of classes, papers, and comments that demonize and scapegoat white males. Universities in the US have become Marxist indoctrination camps that allow white, Christian, and conservative students to be abused by fellow students and professors.-GEG
The University of Kansas (KU) is the latest college to villainize
white males, this time in a course entitled "Angry White Male Studies"
for which students can actually earn college credits.
Campus Reform reports
that the course will be held during the fall 2019 semester and will
explore "deeper sources of this emotional state while evaluating recent
manifestations of male anger" in Europe and America from 1950 to the
present.
The classes will also talk about the dominant and subordinate masculinity roles, according to KCTV 5 News.
The poster for the course features a photo of Edward Norton from American History X, a film focused on a white male who goes to prison after killing two young black males.
The class will be taught by Christopher E. Forth, the Dean's Professor of Humanities and Professor of History at KU.
Students on campus were reportedly in a state of disbelief over the course offering.
"Everyone's just reposting it [on social media] and asking if it's a
joke or not, it's just been all over the Snapchat stories, so it's been
like big news today," Emily Hiegert, who is a KU student, told KCTV 5.
Unfortunately, the villainization of white males on college campuses
is nothing new, though it seems to have taken on a more aggressive and
radical tone in recent years.
In 2017, feminist professor Carrie Mott and a colleague, Daniel
Cockayne, discouraged students and scholars from citing white males in
their research, claiming it perpetuates what they've dubbed "white
heteromasculinism."
In their 22-page paper entitled "Citation matters: mobilizing the
politics of citation toward a practice of 'conscientious engagement,'"
Mott, a professor at Rutgers University in New Jersey, and Cockayne, a
professor at the University of Waterloo in Ontario, argued that
researchers are disproportionately citing established white men in their
research and that other groups are therefore underrepresented. They
claimed that the continual practice of citing white researchers will
serve to perpetuate a "system of oppression" that benefits only "white,
male, able-bodied, economically privileged, heterosexual, and
cisgendered" individuals.
Earlier that year, the student union at the prestigious School of
Oriental and African Studies (SOAS) in London articulated similar
concerns, and argued that the study of philosophy should include only
philosophers from Africa and Asia and should exclude white philosophers
such as Descartes and Kant.
Also in 2017, a University of Hawaii math professor suggested that
all white men should either quit their jobs or accept a demotion to
clear the way for the advancement of minority workers. Professor Piper
Harron went so far as to claim that anyone who disagreed with his
viewpoint was racist, sexist, and transphobic. "If you are a white cis
man [meaning one who identifies as male and was assigned male at birth]
you almost certainly should resign from your position of power," Harron
insisted. "Statistically speaking, you are probably taking up room that
should go to someone else."
When Georgetown University professor Carol Christine Fair advocated
for the castration and murder of white Republican men on social media,
the college issued a statement in support of the left-wing professor.
Additional source:
https://www.thegatewaypundit.com/2019/04/university-of-kansas-offering-course-on-angry-white-males-this-fall/
---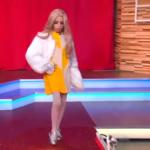 Video Shows How An 11-Year Old Boy Dressed in Drag Is Example of How Marxism Is Destroying Western Culture
Here is a short video showing how. following WWII, a group of Marxist theorists, calling themselves the Frankfurt School, brought their hatred of Western culture to Columbia University in New York city and, from there, spread their ideology across the US through the media, government and academic institutions. The degradation of children is part of the master plan. -GEG
---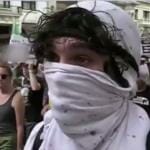 The Mainstream Media Defends Left-Wing Violence while Antifa Calls for the Downfall of America
While academic and media personalities clamor against 'white supremacy', which virtually is non-existent except in pitifully small numbers seldom larger than fifteen or twenty demonstrators at public rallies, huge mobs of crazed Leftist demonstrators destroy property, assault police, and call for the end of America – yet no one seems to think it is strange that the government does nothing about it. NBC news failed to report an assault on its own news staff. Why? Because that would cast an unfavorable light on the Left, which is the political alignment of NBC itself. CNN even has gone so far as to describe leftists calling for the torture and murder of the President as 'anti-hate' groups. Tucker Carlson presents this topic with clarity. -GEG
https://www.youtube.com/watch?v=Fwvfh6ZS-7U
Fox News host Tucker Carlson pointed out the blatant hypocrisy of the media's coverage of the "Unite the Right" rally and the Antifa-led counter protest over the weekend. During a segment of "Tucker Carlson Tonight" on Monday evening, he discussed the subject with guest Mark Steyn.
"Amazingly and it is amazing, NBC news did not even cover the assault on its own staff. The left did it so it would have undermined their storyline. Screaming leftists in black face masks throwing bottles and calling for the destruction of America and the murder of the president. You know how CNN described this group? As 'anti-hate group,'" Carlson said.
"The very people decrying fascism are the ones practicing fascism, crushing those who disagree with them, silencing contrary opinions, which they do constantly, threatening violence as they did yesterday," he continued. "They can call it anti-hate all they want but the truth is they would hurt if you they could."
On Sunday, the one year anniversary of the Charlottesville riots, progressives and anarchists gathered together as so-called "Antifa" to counter-protest a gathering of white supremacists in Washington, D.C. Many people there expressed their desire to harm the president.
"In fact when you look at what is going on, the increase in the level of targeted intimidation of people who just happen to have a political disagreement with them, I think we are approaching the point which someone will get killed over this. The media will play a large part in that," Mark Steyn, a guest on the show, stated.
---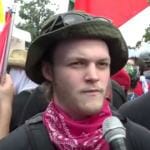 Young Antifa Protesters Are Asked about Their Political Preferences. Now We Know What They Are Taught in School.
Leftist protesters in Washington DC were asked if they support a Marxist revolution, and their answers show that they have no deep understanding of political ideology but, instead, have been massively exposed to Marxist slogans. [This is more hopeful that it may seem. These young people really are idealists. If we can reach them with truth – not so easy, to be sure, but possible – they will realize that they have been deceived, and many will become individualists and crusaders for freedom and human dignity.] -GEG
---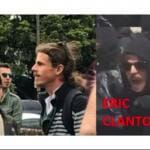 Antifa Member and Ethics Professor Escapes Punishment after Bashing Trump Supporters with A Bike Lock
Eric Clanton, a philosophy and ethics professor at Diablo Valley College, was granted a plea deal and will receive probation instead of punishment following his violent attacks on Trump supporters. Police report that he bashed seven people with a bike lock at Berkeley in April 2017. Clanton was charged with four counts of felony assault and faced 11 years in prison. One victim, Sean Stiles, pressed charges against him over the brutal attack that, fortunately, was captured on video. [The judicial system now protects the privileged leftist class and is no longer capable of serving justice. So, what do we do about it? A good place to begin is 
Red Pill University
.]
The Daily Caller:

A California professor accused of bashing an individual in the head with a bike lock received three years of probation on Wednesday.

California convicted former Diablo Valley College ethics professor Eric Clanton of misdemeanor simple battery, but dropped three felony assault charges, according to the Alameda Superior Court database.

Clanton allegedly smacked an individual on the head with a bike lock in Berkeley, California, on April 15, 2017. Users on the social media site 4chan matched the former professor's clothing, backpack straps and facial structure to that of the assailant. Police arrested Clanton on May 24, 2017.
Clanton originally faced up to 11 years in prison. He was supposed to have a preliminary hearing Wednesday, but instead entered into a plea deal, reported Berkeleyside. Clanton submitted a "no contest" plea for misdemeanor battery and, in exchange, had three felony assault charges, a felony for inflicting serious bodily injury, and a misdemeanor mask-wearing charge dismissed.

Berkeley police reported that the former professor had hit at least seven people in the head with a bike lock. He allegedly hit one victim in the back and neck, another on a helmet, severing a piece of it off, and another across the head, creating a wound that needed five staples to mend.
---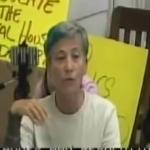 Berkeley City Council Votes to Outlaw Weapons at Street Events in Anticipation of a Anti-Marxist Rally this Weekend
Berkeley Police Chief Andrew Greenwood requested rules to outlaw tools of riot and weapons from street events as a rally against Marxism is planned for Sunday.  Reiko, a representative from Revolution Books, spoke against the ordinance and explained that she and her associates were promoting what she called the "new communism". She was an example of exactly what the rally intends to protest. It was clear, therefore, that she and her 'new communism' friends were unhappy about not being able to bring weapons to the rally. Mayor Jesse Arreguin, who has authority over the police, is publicly in favor of the ordinance following the adverse publicity he received for giving law enforcement stand-down
orders
 during a previous confrontation.  He also supported BAMN (By Any Means Necessary) on Facebook.  Council member, Cheryl Davila, spoke in favor of allowing weapons and defended the concept of violence by saying that, when Antifa attacked demonstrators and bystanders last year, they actually were protecting citizens from 'white supremacists'. She was out-voted, however, and the ordinance was sustained. -GEG
---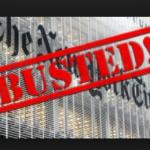 New York Times Says White Population in New Hampshire Is A 'Problem'
A recent New York Times Twitter says, "New Hampshire, like its neighbors Vermont and Maine, is nearly all white. This has posed an array of problems for new arrivals who often find themselves isolated and alone, without the comfort and support of a built-in community." Reporter, Matt Walsh, shows that this is one of the most racist statements one can imagine and proves it by showing how it would sound if it were written about Detroit, instead of New Hampshire.
.
[The issue, however, is deeper than that. Apparently, the Times believes that skin color is the most important factor in creating a sense of community. The 'new arrivals' described here are, of course, immigrants who are bringing with them, not only a difference in skin color, but a huge difference in culture, which they intend to see replace the culture that now exists in New Hampshire. The fact that the Times sees skin color – any skin color – of a community as 'a problem' but sees no problem with the influx of a foreign culture which is fundamentally opposed to the traditional values of America, speaks loudly about the mindset of the paper's owners and editors. What is that mindset? It is that that they are committed to a strategy of changing the traditional American culture in which there was an inward force tending to bind all citizens together by those things they have in common and to replace it with an outward force tending to divide citizens into factions promoting those things they do not have in common. They do this because they seek the fracturing and dismantling of the former unified and sovereign nation and the absorption of its leftover parts into a global government based on the totalitarian model of collectivism. Please read that again. It explains almost everything that is going on inside formerly powerful nations that, if they remained as they were two generations ago, could not be conquered by the globalists within their midst. Once you understand this strategy you will never again think that the leaders of the world or the media giants have gone mad. They know exactly what they are doing.] -GEG
If Twitter is looking to weed out the racism on its platforms, it may want to start with The New York Times. The paper recently published one of the most racist tweets you'll ever see: "New Hampshire is 94% white. It is now trying to figure out how to change that."
Attached to the tweet is a bigoted screed about New Hampshire's whiteness infestation. It begins with the sad tale of a certain Catalina Celentano, who moved to the state and discovered, to her horror, that most of its residents speak English. "She found herself in an ethnic vacuum," the author reports. One worries how Ms. Celentano will react when she learns that the vast majority of the Earth is a non-Spanish speaking "vacuum."
The article continues:
New Hampshire, like its neighbors Vermont and Maine, is nearly all white. This has posed an array of problems for new arrivals, who often find themselves isolated and alone, without the comfort and support of a built-in community.

It has also posed problems for employers in these states, who find that their homogeneity can be a barrier to recruiting and retaining workers of different ethnicities and cultural background.

The issue prompted about 100 business leaders, government officials and members of nonprofit organizations to meet Thursday to search for ways that New Hampshire — which is 94 percent white — might lure other racial and ethnic groups, as well as younger people.
Let us now consider how this all would look if it was written about any other race. Imagine the reaction if The New York Times published something like this:
Detroit, like Atlanta and Birmingham, is nearly all black. This has posed an array of problems for new arrivals, who often find themselves isolated and alone, without the comfort and support of a built-in community.

It has also posed problems for employers in these states, who find that their homogeneity can be a barrier to recruiting and retaining workers of different ethnicities and cultural background.

The issue prompted about 100 business leaders, government officials and members of nonprofit organizations to meet Thursday to search for ways that Detroit — which is 83 percent black — might lure other racial and ethnic groups, as well as younger people.
Change just a few words and suddenly it becomes extremely racist. Or rather, its racism suddenly becomes apparent to even the most obtuse observer. It is racist to treat the preponderance of a certain race as an objective problem. It is racist to try and lower the percentages of a certain race just for the sake of lowering it. It is racist to move to an area and accuse it of being an "ethnic vacuum" just because most of the residents have a different ethnicity from your own. It would be racist if I went to South Korea and scolded it for being Korean, and it is racist if Hispanics follow a similar procedure when they come to America.
The only way to alleviate the racism in this case is to arbitrarily declare that racism, by definition, applies only to the prejudices of white people, but never to the prejudices against them. This is not the definition that you'll find in the dictionary, but it is the definition advanced by the left-wing extremists running academia.
---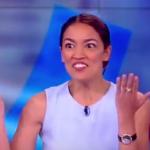 'Democrat Socialist' Alexandria Ocasio-Cortez, Explains Her Political Platform. It Is Merely A New Name for Marxism.
So-called Democratic Socialist, Alexandria Ocasio-Cortez, a rising star in the Democrat party, is campaigning for free health care, free college tuition, subsidized housing, open borders, tax-supported renewable energy, and a minimum wage for everyone. To fund these programs, she says that the ultra-wealthy should pay their fair share, and corporations should pay a 28% tax rate, which would collect $2 trillion. [She is clueless that corporations never pay taxes, because every penny of what they pay is passed on to the consumers of their products and services in the form of higher prices. The people who vote for Alexandria will end up paying all the corporate taxes they think are so great. She also is clueless that higher taxes for those who succeed in business will drive them from the country (leaving many of their their former employees out of work and living in tents. She is totally clueless about economic fundamentals in spite of her degree in Economics at Boston College – or perhaps it is BECAUSE of her degree. She will be perfect as a Pied Piper to lead a parade of clueless socialists to the Democrat Party – and then to oblivion.] -GEG
Campus Reform interviewed supporters of newcomer Alexandria Ocasio-Cortez to discover how they expect to fund her "free" programs, and it would be funny, if it weren't so sad, when they realize that the people pay for "freebies" with their taxes. Millennials are now the largest voting block. Success has been demonized in America.
https://www.youtube.com/watch?v=fn04PJ6mJWM