Nasdaq Threatens 75% of Listed Companies, Demands Minorities Be Appointed to Directors to Board – Or Else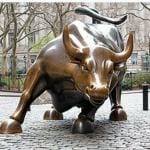 US stock exchange Nasdaq proposed new rules to the Securities and Exchange Commission (SEC) that will require all US companies listed on the exchange to publicly disclose diversity statistics regarding their board of directors, and most companies would have to either appoint "diverse" board members or explain why they hadn't done so in a letter, or possibly face de-listing. Social media critics pointed out that selecting directors based on their skin color, genitalia and sexual preference epitomized the bigotry most "
diversity
" measures claim to fight. According to the New York Times, 75% of currently-listed Nasdaq companies fall short of the proposed requirements.
Goldman Sachs, also part of the woke progressive movement, will no longer take a company public unless it has at least one "diverse" board member. Since September, the state of California has required companies headquartered there to have a minimum number of minority directors or face six-figure fines. -GEG
US stock exchange Nasdaq has warned listed companies they must appoint at least two "diverse" directors to their board – a 'self-identified' female and an "underrepresented minority" or LGBTQ person – or possibly face delisting.
Nasdaq revealed its plan to turbocharge diversity on its exchange in a proposal filed with the Securities and Exchange Commission (SEC) on Tuesday.
Under the proposed new rules, not only will all listed US companies be required to "publicly disclose consistent, transparent diversity statistics regarding their board of directors," but "most" companies would have to either appoint "diverse" board members or explain why they hadn't done so in a letter. 
The mandatory addition of "one [director] who self-identifies as female and one who self-identifies as either an underrepresented minority or LGBTQ+" appears to leave room for Rachel Dolezal-style "self-identification" as something other than white, male, or straight – a potential loophole for companies that prefer to keep their current boards. Non-US companies and small firms would be permitted to appoint two female directors instead.
Listed companies would be required to publish their diversity stats within a year of the SEC adopting Nasdaq's proposal, and be required to have "one diverse director" within two years of implementation. Depending on company size, they would have four or five years to comply with the two-director requirement. Those who fall short can escape delisting only "if they provide a public explanation of their reasons for not meeting the objectives."