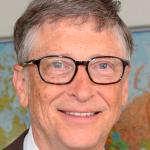 US Billionaires Increase Net Worth by $434B During Coronavirus Lockdowns
While more than 36-million Americans are jobless following shutdowns allegedly to slow the spread of the coronavirus, the nation's 600 billionaires increased their wealth by 15% from $2.9-trillion in March to now nearly $3.4-trillion. Five billionaires, including Amazon CEO Jeff Bezos, Microsoft Co-Founder Bill Gates, Facebook CEO Mark Zuckerberg, Berkshire Hathaway CEO Warren Buffet, and Oracle CEO Larry Ellison, have increased their wealth by $75.5-billion since the nation's coronavirus lockdowns began in March. While Bill Gates was spreading panic over the coronavirus and pushing for a 3-month lockdown, the Bill and Melinda Gates Foundation was buying up tech stock, such as Apple, Amazon, Google-parent Alphabet, and Twitter, all of which did a booming business during the lockdown. -GEG
The net worth of the United States' billionaire class has increased by $434 billion during lockdown orders implemented by most states to slow the spread of the Chinese coronavirus.
Between March 18 and May 19, the nation's more than 600 billionaires have increased their net wealth by 15 percent from $2.9 trillion in March to now nearly $3.4 trillion, even as more than 36 million Americans are jobless.
The analysis of Forbes data, conducted by researchers with the left-leaning Americans for Tax Fairness group, detailed how the wealth of Amazon CEO Jeff Bezos, Microsoft Co-Founder Bill Gates, Facebook CEO Mark Zuckerberg, Berkshire Hathaway CEO Warren Buffet, and Oracle CEO Larry Ellison has increased by $75.5 billion since the nation's coronavirus lockdowns began in March.
These five billionaires' growth in net wealth, alone, accounted for 21 percent of all the wealth growth over the last two months among the more than 600 billionaires in the U.S.
Jeff Bezos, alone, has increased his net wealth by almost $35 billion, or 30.6 percent, since the beginning of the coronavirus lockdowns that forced small and medium-sized businesses to close while big businesses like Wal-Mart, Target, Amazon and Amazon-owned Whole Foods, and Walgreens were allowed to remain open as they were deemed "essential."
Additional source:
Gates Foundation Buys Stock in Google, Twitter, Apple and Amazon in First Quarter Before Pushing Pandemic Panic Porn