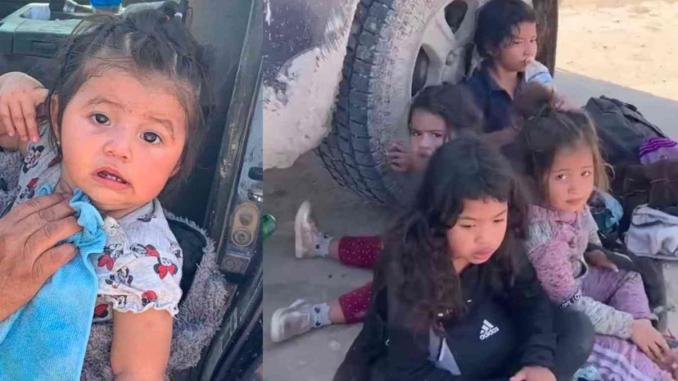 Quemado, Texas: Five "little baby girls" aged 11 months, two, three, five and seven, from Honduras and Guatemala, were found on a Texas farm abandoned by smugglers the night before. The girls were left crying and laying in the dirt on the bank of the Rio Grand River, and one of them did not have any clothes. The weather reached 103
°
that day and the farmer who rescued them feared that they would have died alone if he had not found them. The girls were turned over to authorities and will be transferred to Health and Human Services custody. The farmer's wife, Kate Hobbs, said that the mass flood of immigrants "needs to stop right now." She said that this is happening up and down the border and that there will be a lot of deaths and suffering this summer as temperatures rise. She pleaded for the president to tighten restrictions at the border and to come and see the crisis for himself. She said that under Trump's policies, it was the first time that they felt secure in 30 years and asked Biden to change back to Trump's system.
Border Patrol detention centers now house more than 21,000 migrant children. In March 2021, Border Patrol agents encountered 172,331 migrants crossing the border, and April topped that number at 178,622 migrants which is more than 10 times greater than April 2020, when 17,106 migrants were caught at the southern border.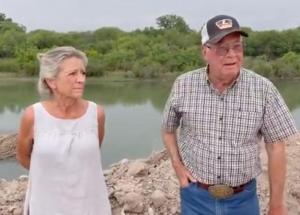 Five young
migrant
 girls, all under the age of seven, were found abandoned on land near the southern 
border
 belonging to a 
Texas
 farmer as he made his rounds on Sunday.
He found the hungry, crying girls sitting in the dirt, one so young she could only crawl, and another just two years old. He fears they would have died had he not seen them.
"I was making a round of the farm and about 8.30 in the morning, I was just driving along and all of a sudden I see them," said Jimmy Hobbs. "Five little baby girls, all by themselves, hungry, crying. One didn't have any clothes on."
"Immediately, I called border patrol but they're snowed under, they don't have any help either," added the farmer, who grows onions and watermelons on his land near Quemado, Texas.
Mr Hobbs eventually called one of the workers on the farm and asked the man's wife to bring them some food and water. Having brought the girls into the shade, they waited more than two hours for the authorities to show up.
"It was really hot. I don't think they would have made it if I hadn't found them," he said.
Mr Hobbs and his wife, Katie, were interviewed by Representative Tony Gonzalez about finding the girls and their experience living on the US border with Mexico.
Not the Bee:  https://notthebee.com/article/texas-rancher-smugglers