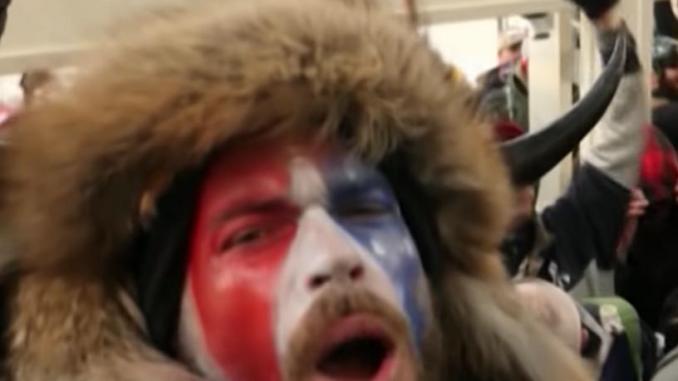 New video has been released showing Jacob Chansley, the so-called "Q shaman", inside the Capitol with Officer Keith Robishaw who told Chansely's group they won't stop them from entering the building. The new video directly contradicts government prosecutors who allege that Chansley: "approached Capitol Police Officer Robishaw and screamed that this was their house, and that they were there to take the Capitol, and to get Congressional leaders. Chansley, who has no criminal record, is not charged with assaulting an officer, but for trespassing and disorderly conduct. He has been incarcerated since January, denied bail awaiting trial. He has no criminal record.  Chansley's attorney, Albert Watkins, recently gave a shocking interview and said that his client has Asperger's and asserted that other protesters had brain damage, were retarded, and were under the "most powerful propaganda campaign since Adolf Hitler's."
The Capitol Police have 14,000 hours of video of the Capitol between noon and 8 pm on January 6, but the police, along with government lawyers and federal judges, are using every legal trick possible to keep the videos hidden from the public. Cherry-picked clips have been presented in court as evidence against hundreds of January 6 defendants. The recordings likely contradict the claims advanced by Democrats and the media over the past four months.
A newly-obtained video shows United States Capitol Police officers speaking with several January 6 protestors—including Jacob Chansley, the so-called "Q shaman"—inside the Capitol that afternoon.
One officer, identified in the video and confirmed by charging documents as Officer Keith Robishaw, appears to tell Chansely's group they won't stop them from entering the building. "We're not against . . . you need to show us . . . no attacking, no assault, remain calm," Robishaw warns. Chansley and another protestor instruct the crowd to act peacefully. "This has to be peaceful," Chansley yelled. "We have the right to peacefully assemble."
The video directly contradicts what government prosecutors allege in a complaint filed January 8 against Chansley: "Robishaw and other officers calmed the protestors somewhat and directed them to leave the area from the same way they had entered. Chansley approached Officer Robishaw and screamed, among other things, that this was their house, and that they were there to take the Capitol, and to get Congressional leaders."
American Greatness:  https://amgreatness.com/2021/05/10/why-is-the-government-hiding-january-6-video-footage/
The Week:    https://news.yahoo.com/qanon-shaman-lawyer-issues-shockingly-173200108.html
UPDATE:   HUGE: MORE VIDEO SURFACES of Capitol Police Waving Protesters Inside, Moving Barricades Aside, Standing By as Protesters Walk In