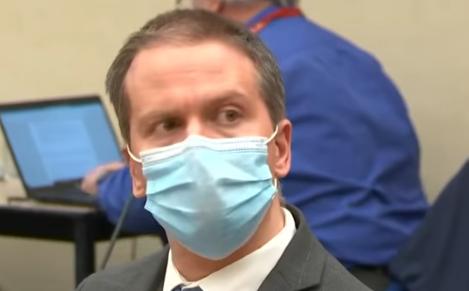 Former Minneapolis police officer Derek Chauvin was found guilty of all three counts by the jury, after it deliberated for more than 10 hours, in the trial for murder in the death of George Floyd last year. Chauvin was convicted of second-degree unintentional murder, third-degree murder by way of an "eminently dangerous" act, showing a "depraved mind," and second-degree manslaughter via unreasonable risk. He faces a maximum of 75 years in prison. Sentencing will occur in approximately eight weeks according to the judge. -GEG
Summary by JW Williams
Former Minneapolis police officer Derek Chauvin was found guilty of all three counts by the jury, after it deliberated for more than 10 hours, in the trial for murder in the death of George Floyd last year. Chauvin was convicted of second-degree unintentional murder, third-degree murder by way of an "eminently dangerous" act, showing a "depraved mind," and second-degree manslaughter via unreasonable risk. He faces 75 years in prison. Sentencing will occur in approximately eight weeks according to the judge.
Joe Biden made a public statement that while the jury was deliberating that he believes the evidence in the Derek Chauvin trial is "overwhelming," and wants us to know that he hopes for the 'right' verdict in the murder case. Due to his statement and Maxine Waters' encouragement to BLM to "get more confrontational", this case is likely to be appealed. Presiding Judge Peter Cahill responded by saying, "I'll give you that Congresswoman Waters may have given you something on appeal that may result in this whole trial being overturned," adding that "I wish that elected officials would stop talking about this case, especially in a manner that is disrespectful to the rule of law and the judicial branch and our function." Jacob Frey, the Mayor of Minneapolis, blamed police for Floyd's death and said, "Regardless of the decision made by the jury, there is one true reality, which is that George Floyd was killed at the hands of police."
Police bodycam footage showed George Floyd calling out that he could not breathe numerous times before he was restrained on the ground. The medical examiner noted that Floyd had severe heart disease and had a fatal level of fentanyl in his system when he died.
Minnesota Governor Tim Walz declared a state of emergency on Monday, and called in the National Guard. He obtained $9-million in emergency funding for law enforcement's response to anticipated unrest. Six states and Washington DC requested help from the National Guard to protect their cities.
The jurors were intimidated, and threats were made by BLM to burn the city to the ground. Candace Owens called the verdict "mob rule". She blamed the media for spreading propaganda lies, and for refusing to show the entire bodycam video that would have given context to the incident.
Sources:
https://www.zerohedge.com/political/jury-reaches-verdict-derek-chauvin-trial-be-read-imminently
https://www.zerohedge.com/political/biden-praying-right-verdict-chauvin-trial-major-cities-brace-violence
Sun:   https://www.thesun.co.uk/news/14716050/candace-owens-derek-chavin-unfair-guilty-verdict-mob-justice/