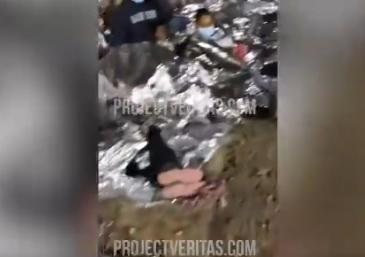 Ben Swann reported that over 100,000 people are crossing the US-Mexico border each month, which includes 565 children crossing the border every day. In 2017, an investigation revealed that 80% of girls and women crossing the border through Mexico are raped or sexually assaulted. The media is silent on the topic of child sex trafficking.
US Border Patrol rescued a 6-month-old baby from the Rio Grande River after human traffickers threw the baby into the water from their raft. This after having assaulted the little girl's mother and broken her leg along the journey. The mother reportedly paid $3,500 to traffickers to get her and her baby across the border. There were 67 adults and 150 children on the raft.
Several migrant children have drowned trying to cross the Rio Grande in response to Biden's invitation to surge the border.
Post Millennial:   https://thepostmillennial.com/border-patrol-rescues-6-month-old-baby-after-she-was-tossed-into-the-rio-grande-by-human-traffickers
Video showed two toddlers being tossed over a wall by smugglers and abandoned on the US side of the southern border in New Mexico.
WATCH: U.S. Customs & Border Protection released a video Wednesday of two toddlers being abandoned on the U.S. side of the southern border.

Smugglers are seen fleeing the area after transporting the children across the international boundary.

WARNING: The video is disturbing. pic.twitter.com/31lBJj9ehq

— CBS Evening News (@CBSEveningNews) March 31, 2021
Project Veritas published video of migrants of all ages lying in the dirt under the Anzalduas International Bridge at the processing center in Granjeno, Texas.
BREAKING: Secretly Recorded Video Shows Migrants Including Children Held Under Bridge In Makeshift Customs and Border Protection Processing Center Enduring Inhumane Conditions At Southern Border#BodiesUnderBridges pic.twitter.com/iIeD9TAbih

— James O'Keefe (@JamesOKeefeIII) April 1, 2021