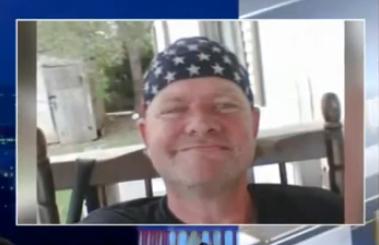 Rochester Police say Steven Amenhauser was doused in flammable liquid while sitting in a chair inside his apartment and then lit on fire by two boys who then fled. Amenhauser suffered for four days in a burn-trauma unit with second- and third-degree burns over 70% of his body before he died. Zayvion Perry, 16, and 14-year-old Adriel Riley, Jr. have been charged with second-degree murder in Amenhauser's death. Rochester journalist and radio host Bob Lonsberry reported that, according to police records, the teens were black and instructed the victim during the incident to tell authorities it was two white men who set him on fire. Until then, the media had refused to disclose the races of the killers and the victim lest it be divisive. Riley, the 14-year old, has been arrested twice in connection with armed robberies and another incident with a stolen car. He will be prosecuted as a juvenile offender. -GEG
In an outburst during a virtual court appearance from the 16-year-old accused of setting a man on fire: "I didn't kill him."
Zayvion Perry, 16, and a 14-year-old accomplice are accused of intentionally setting Steven Amenhauser on fire on March 12. The 53-year-old man died four days later.
Perry and Adriel Riley Jr. are being held at the Monroe County Children's Detention Center. In a virtual court appearance, each suspect pleaded not guilty, and a judge ordered them held no bail and no release.
In footage recorded by 13WHAM outside the Lyell Avenue apartment, a coat belonging to a mail carrier could be seen laying on the sidewalk. That jacket was used to try to smother the flames from Amenhauser's clothing and body.
Rochester Police investigators said he was doused in a flammable liquid. An investigator said both teens made spoken admissions at the scene.
Court documents said Perry also made admissions in a written statement. An affidavit by RPD Investigator Nicholas Mazzola states Perry admitted that after the victim was covered in the liquid, "he did attempt to ignite the floor area," and "the other participant in the crime then set fire to the victim."
Records show the teen and his mother waived their Miranda rights to an attorney before the statement.
After the death of his wife, Rochester Police said Amenhauser had no family to whom he could turn.
He was set on fire as he sat in a chair in his apartment on Lyell Avenue. He suffered second- and third-degree burns over 70 percent of his body.
When asked by reporters, Rochester Police could not give a motive for the crime.
Additional source:     https://censored.tv/news/two-black-teens-kill-white-man-by-setting-him-on-fire-in-new-york/